Cleveland Landscapers Blog
Landscape News, Tips and Advice
from H&M Landscaping


H&M Landscaping Solves Your Yard Drainage Problems

5/3/21
H&M Landscaping Construction Division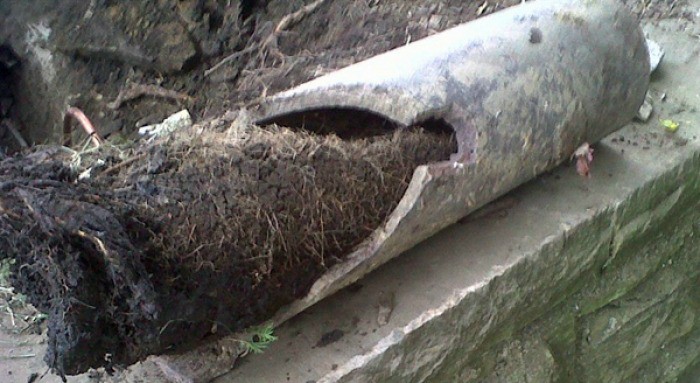 With copious rainfall thoughout Northeast Ohio lately, you may have noticed overflowing drain pipes or gutters. Not attending to these issues promptly can lead to several serious problems in your home down the road - like wet basements or foundation failures. H&M Landscaping can take care of that wet yard and solve all of your drainage woes. We use the latest technology, including drones to inspect hard-to-reach roofs or gutters and remote HD video cameras that can snake down and inspect drains out to 150 feet. We can supply you with a full analysis of your drainage system and recommend a cost effective, long lasting solution. Whether it's a clean-out of your existing system, or design and installation of a new one - we've got you covered. Get in touch with us today and let us help you keep your property high and dry for years to come.
---


Landscape Maintenance: April Showers Bring May Flowers

4/26/21
H&M Landscaping Maintenance Division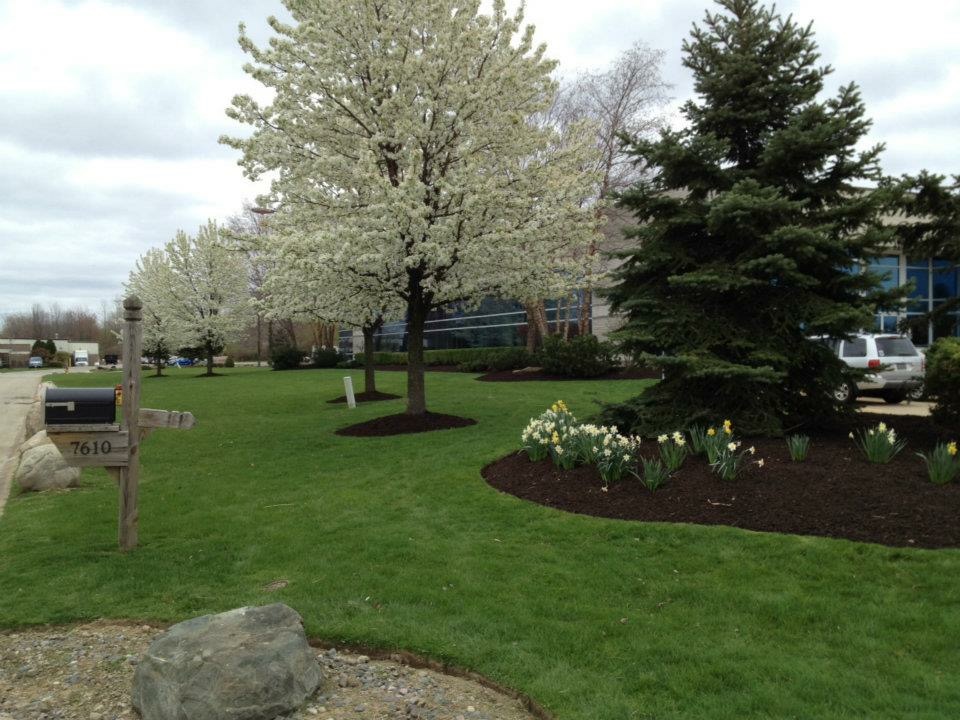 It has been a wild ride this spring. A relatively mild winter and warm March has us about a month ahead of the growing season this time last year. A lot of plants pushed early only to be hit with a nasty April snow with some pretty bitter temperatures. If you have Lilies and Pachysandra, you have probably noticed some of the damage. The plants will recover, however only time will tell if all the Lilies bloom.

If you live in an area with any kind of deer population, they too are enjoying the early spring and have been feasting on your Hosta and various other tender plants (Lilies included). H&M offers a deer control product that can be helpful in deterring the critters, but it is not a one-and-done treatment. We recommend starting with 10 treatments and adjusting after that. Current customers have had success with 6 applications, while others may need weekly visits.

The mild winter has also helped the weeds. They will grow in all kinds of weather, but winter annuals have been growing like crazy. Winter annuals germinate in the fall, live through the winter, flower and die. The nasty looking weed with the little white flower is Bittercress. It has taken over a lot of beds this year and also popped up in many lawns. Annual Bluegrass (most people consider it a weed although it probably has filled in any bare spot you may have had in your yard) is nice and healthy. The true annual variety will fade away during the first hot spell we encounter and there is nothing you can do about it. Try to reseed these bare areas with perennial grasses. I have encountered a winter annual Violet this year. It looks nice in the bed, but has also moved into the lawn. The customer doesn't want it in either area. Again, a true annual will die, but not before seeding so it can be around again next year to bother you. A healthy, full lawn is your best defense for weed encroachment. Proper feeding and weed treatment will be necessary to keep it that way. If you have any true annual weed issues, a pre-emergent weed treatment in the fall would be very beneficial.

A weed is anything growing where you don't want it. Take a look at the pictures of the purple Violets (these are not the annual type). One picture is of a lawn area, the other is from a bed area. Depending on who you talk to, it may be a weed in both situations, or desirable in both situations. Beauty is in the eye of the beholder.

April showers bring May flowers, and this year snow plowers. Remember, we live in Ohio; you can do everything right and get thrown a curve that changes everything. Enjoy the weather today because who knows what is coming!
---


Design, Installation & Renovation of Custom Patios

4/20/21
Steve Fuller, Construction Supervisor


The Cleveland winter is stubbornly hanging on, but spring will be in full swing soon. H&M Landscaping is getting our season kicked off with many new patio installations and renovations. Our crews are experts with all types of hardscapes and we love installing paver patios. We believe patios can add a lot of character and provide convenience and versatility to your property. A paver patio installation can offer a great space to entertain and relax on comfy outdoor furniture. You can also look forward to a built-in grill, firepit, or custom water feature. You'll not only increase your home resale value, but you will add additional living space and improve your quality of life for years to come. H&M Landscaping will pay special attention to the details - and that makes all the difference when it comes to quality patios. Your design options are endless with choice of borders, paver rugs, and color scheme to blend or provide contrast with your home. Call us today and start your new project with a consultation from Cleveland's premier landscaper.
---


Landscape Ground Covers - An Alternative to Mulch

4/12/21
Jerry Wilthew, Maintenance Account Manager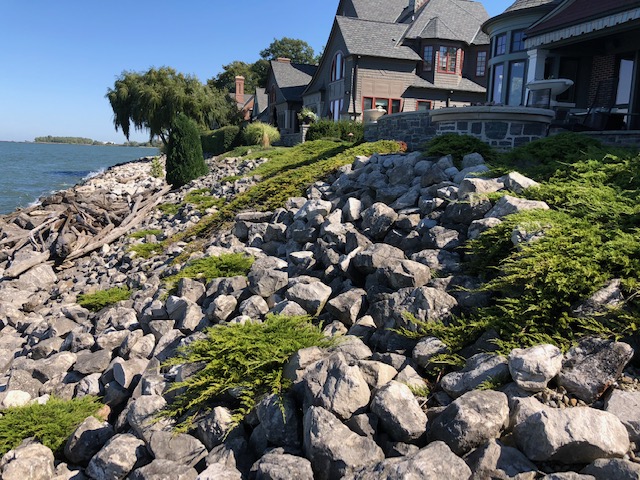 Spring is here - and as you think about ways to dress up your mulched/bed areas, you might consider ground covers instead. They can be very attractive and have two good attributes: weed control and erosion control.

Maybe there is an area that always gets overrun by weeds. A thick cover keeps the area shaded and is very effective in keeping out unwanted species. You may have to be patient in getting that cover thick, but it could be well worth it. English Ivy would be one choice for rapid establishment; however, you need to keep it in check as it could overtake beds, trees and lawns. Severely sloped areas can be fortified with a creeping Juniper variety as seen in this shoreline break wall near Cleveland. Again, patience is needed for total coverage which is helpful for keeping stone or bed material in place. Pachysandra or Myrtle (Periwinkle) are two slower-spreading varieties that could be used as part of your plans in any bedding area. You don't have to fill in entire beds, just use the ground cover as part of your planning scheme. You are the artist in your back yard - H&M can assist in exploring alternatives to the normal and make your living space special.
---


H&M Landscaping: Latham Partner for Cleveland Pool Installations

4/5/21
H&M Landscaping Construction Division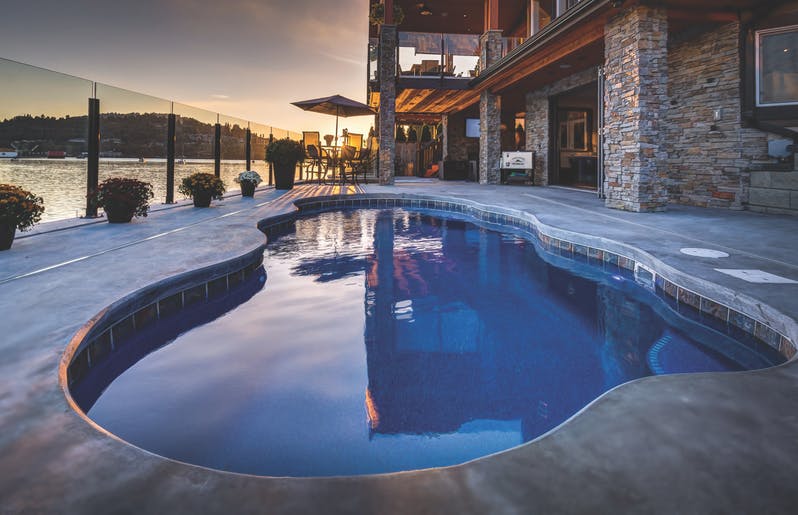 Selecting the right pool company is an important decision in building your dream backyard lifestyle. When planning, we encourage you to deal with a company with a proven track record and reputation for the finest pool products and components in the industry. Given our experience, H&M Landscaping can be that company for you!

The team at H&M Landscaping works with Latham's "best-in-class" line of pool products. Latham is the largest designer, manufacturer and marketer of inground residential swimming pools in North America, Australia and New Zealand with over six decades of experience at the center of the backyard lifestyle. We share a passion for transforming backyards into welcoming extensions of the home, centered on upgrading your space for memorable enjoyment for you and your family. H&M Landscaping has the expertise in managing expectations to ensure the entire process - from idea to completion - goes swimmingly. As a Latham Grand Dealer, we are top tier pool builders with the training, knowledge and expertise to turn your dream backyard lifestyle into reality. We'll stay with you through every step of the process - from excavation to your first big cannonball - with exceptional and reliable service.

As a trusted Latham partner, we're ready to create an unforgettable backyard experience your family will truly enjoy. H&M Landscaping has the resources and expertise to tackle any pool project at any scale. Please contact us today or visit our Latham Dealer Page to beat the summer rush!
---


Spring is Here: Get a Professional Clean-Up for Your Landscape

3/29/21
H&M Landscaping Maintenance Division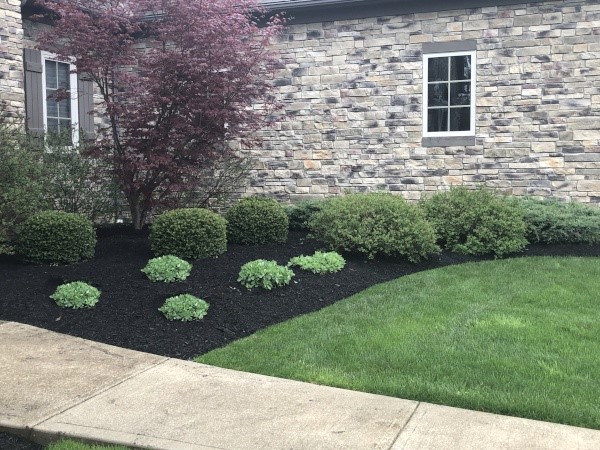 The first week of spring is always so exciting, as it welcomes the feeling of a new year all over again. Perennials are barely poking through and breaking that hard, crusty layer of soil that winter leaves behind as it begins to thaw. You can feel the temperatures warming up and it encourages you to get out and resume outdoor activities. Once you look around, you'll quickly realize the mess winter left behind. Our enhancement crews have been busy here at H&M Landscaping performing our spring clean-ups. We provide leaf clean-ups with state-of-the-art blowing equipment while manually removing branches, sticks and all other winter debris throughout your beds and lawn areas.

Once all beds, hard surfaces and yard areas have been completed, the crew will begin to remove old grasses and remaining perennials and perform shrub trimming with power shears and hand pruners on all shrubs and trees requiring service. All beds and tree rings are deep edged both mechanically and manually with a bed edgers and edging spades. This will prepare all bed areas and tree rings to be mulched for a fresh clean look for your property. Please give us a call for a free landscape consultation that best fits your needs. Services range from a one-time enhancement to a fully-inclusive maintenance program. A spring clean-up helps you to achieve great curb appeal and allows you to get out to enjoy that beautiful landscape!
---


Let H&M Design & Install Your Deck with Trex

3/22/21
H&M Landscaping Design Team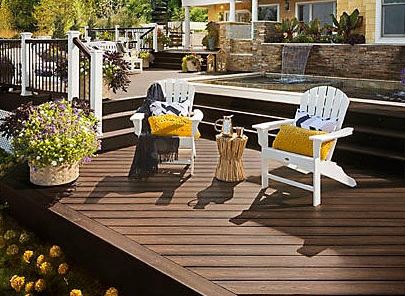 The backyard deck is a staple of many landscape designs. Decks are a great place to enjoy warm summer days, grill some burgers and just plain relax with a glass of iced tea or lemonade. The major improvement in deck construction in the last couple of decades is the availability of high-quality man-made materials. A leader in that field is Trex, the world's number one decking brand. Trex has been making their composite products since 1996. Trex decks are eco-friendly and low maintenance, extending deck life and requiring less work for the homeowner. Trex products include deck framing systems, deck planking, deck railings, fencing and other items. Fascia boards, spiral stairs, hardware and aluminum gates are just some of the accessories that Trex offers to complete the job.

Trex products come in a broad spectrum of colors and textures. The full material palette means the designer has plenty of options with which to satisfy every client's project whims and requests. H&M Landscaping designers are experts in that department. Earth-tone planking with exotic names like Spiced Rum, Tree House, Tiki Torch, Island Mist and Beach Dune make for some fun decisions. Imagine an Island Mist deck combined with white railings. The result -- a bold design statement in your backyard.

Custom overhead pergolas and built-in bars can be added to your new Trex deck. Fire pits, grills, low-voltage lighting and a water bubbler complete the outdoor room. Imagine an old fashion hammock or swing suspended from the beams of your Trex-built shade canopy. At dusk the lights turn on from a preset timer. The evening enjoyment of the deck includes a twilight dinner under the stars.

H&M Landscaping designers and crews have years of experience creating and building knock down gorgeous decks. Why not give us a call today - summer will be here before you can say "Who wants another hot dog?"
---


Bluestone Patio Landscape Installation in Cleveland

3/15/21
H&M Landscaping Construction Team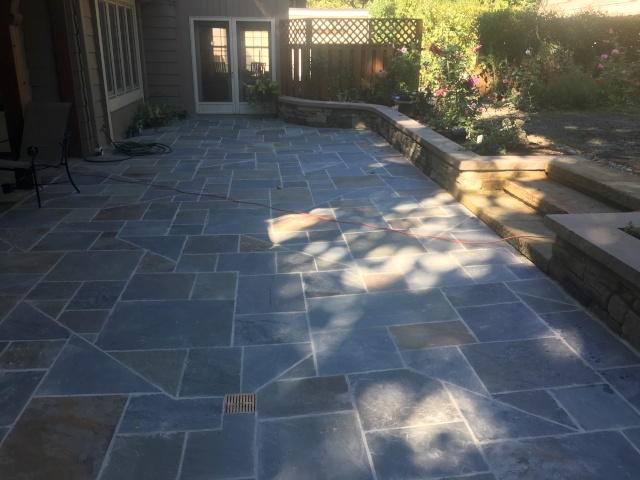 H&M Landscaping installed a fantastic bluestone patio recently in the Cleveland suburbs. To begin this project, the soil was excavated down 8" followed by installation of 4" of compacted limestone. Next, a 4" concrete pad with a brass drain(to help collect any surface water) and wire mesh was installed to strengthen the pad that will be the base for the patio. The bluestone is set in mortar on the concrete pad and cut to the proper length to fit the pattern. The joints were then filled with mortar and smoothed out so water won't collect in them. Finally, the patio is power washed to remove debris and is ready for use. If you would like a bluestone patio like this installed in your outdoor space, please contact our office and we would be happy to visit your property and assist you in the process.
---


Multi-Phase Landscape Restoration with Butterfly Habitat

3/8/21
H&M Landscaping Business Development Team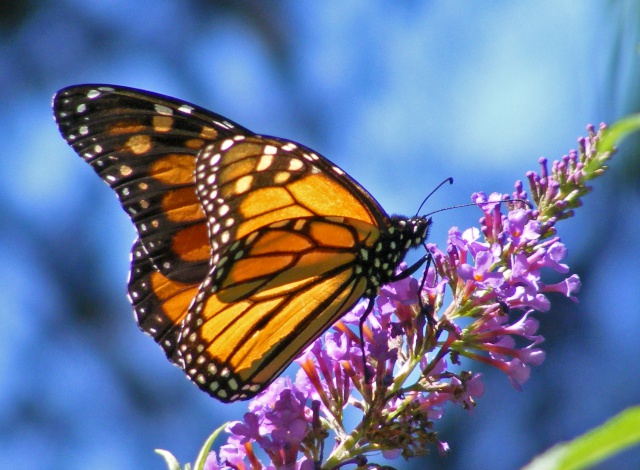 H&M Landscaping was involved in a multi-phase landscape project at the Arhaus corporate headquarters and distribution center in Boston Heights. The initial phase included the installation of over 400 evergreen and shade trees plus 350 shrubs and perennials at the 770,000 square foot facility, located just south of Cleveland. The second phase of the project focused on the restoration of a portion of the site to a butterfly habitat. In addition to planting hundreds of milkweed plants, Arhaus has asked that we include many other pollinator species such as Joe-Pye Weed, Butterfly Bush, Aster and Coneflower. No job is too big or too small, please contact H&M Landscaping today for expert help with your upcoming project.
---


The Northeast Ohio Spring is Fast Approaching

3/1/21
H&M Landscaping Maintenance Division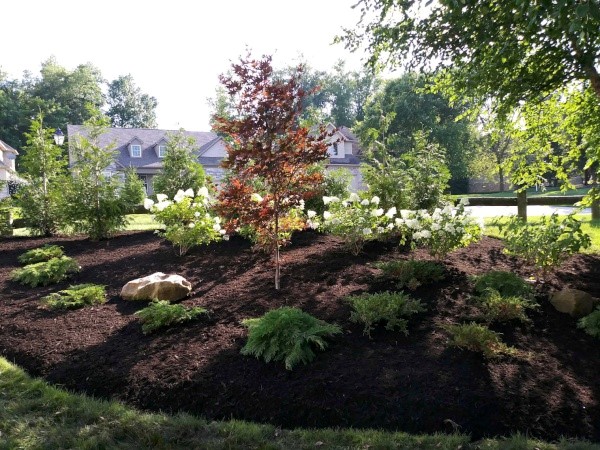 With the spring equinox fast approaching, it's time to start thinking about getting your outdoor living space in order. Nothing starts the season off on the right foot better than a spring clean up with a deep bed edging, trimming, pruning and fresh colored mulch of your preference. We offer customized maintenance programs to satisfy all of your landscaping needs. Whether you live In Mentor, Rocky River, Hudson or anywhere else in Northeast Ohio, H&M Landscaping has you covered. Give our office a call today - to beat the spring rush - and one of specialists will gladly assist you with all of your landscaping needs. When the spring finally comes, you'll be able to relax and enjoy your beautiful yard.
---


H&M Landscaping President Honored by Marquis Who's Who

2/22/21
H&M Landscaping Marketing Team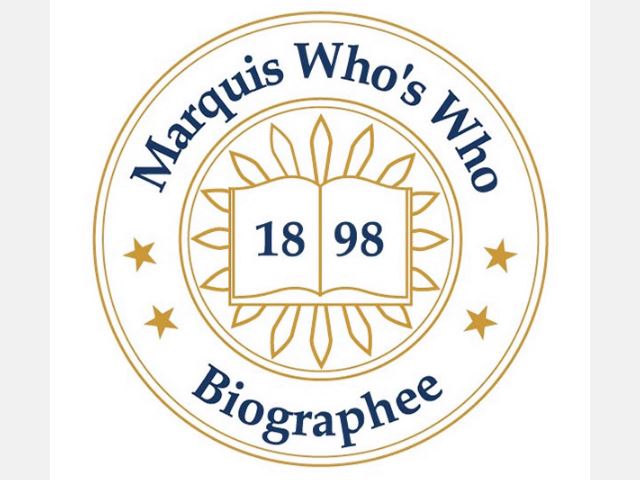 Mark Mazzurco has been included in Marquis Who's Who. As in all Marquis Who's Who biographical volumes, individuals profiled are selected on the basis of current reference value. Factors such as position, noteworthy accomplishments, visibility, and prominence in a field are all taken into account during the selection process.

Respected for his decades of professional experience, Mr. Mazzurco has excelled as the president of H&M Landscaping and H&M Snow Pros for more than 30 years. In this position, he is responsible for meeting with the executive vice president to discuss sales and budgeting activities, scheduling appointments with high-end clients to develop, design and quote elements of a landscape enhancement project, and acting as mentor and coach to sales and management staff. In addition, Mr. Mazzurco found success with M&I Properties, a real estate investment company through which he purchased or has owned over 100 properties in the Cleveland, Ohio area.

Before embarking on his professional path, Mr. Mazzurco earned his high school diploma in 1990. He subsequently garnered many business certifications to further refine his skills within his field. Considering his exceptional accomplishments, Mr. Mazzurco has accepted several accolades throughout his impressive career. Honored for Unilock's Best Back Yard in North America, his work has also been recognized for Best House at the 2017 HBA Outdoor Lighting Awards and Best in Show in the Cleveland Great Big Home+Garden Show in 2020. Mr. Mazzurco's company was additionally celebrated as the Best East Cleveland Landscape Contractor by Cleveland Magazine from 2012 to 2013, and the Best of the Best by Cleveland Landscaper from 2016 to 2019. Mr. Mazzurco is a Belgard Authorized Master Craftsman.

Establishing his business as a sophomore in high school, as he had enjoyed landscaping during the summers throughout his youth, Mr. Mazzurco was also inspired by the opportunity to work for himself. Likewise, he was influenced by his middle-class family, who encouraged him to work harder to obtain the finer things in life. Growing revenues to more than $17.5 million over the course of his tenure with H&M Landscaping, Mr. Mazzurco attributes his success to his hard work, perseverance, reinvesting in the people working for him and his continued education in the field.

Mr. Mazzurco has contributed to many civic endeavors beyond his professional circles, including the Dr. Susan Love Foundation for breast cancer, who funds research to end the disease and improve the lives of people impacted by it through education and advocacy. He has also been affiliated with various organizations in relation to his area of expertise, such as the Ohio Landscapers Association, the Ohio Nursery Association, and the Snow and Ice Management Association.

Among the many highlights of his storied career, Mr. Mazzurco is proud to have served as a father figure to his nearly 150 employees, nurturing their professional development and prioritizing their welfare, while at the same time honing his communication skills to further solidify his commitment to fixing his mistakes and ensuring that his projects are completed correctly and efficiently. Furthermore, he cites his wife, Stacey, as the foundation for his current success. She has thrived as a mother and a businesswoman operating as the chief financial officer and chief executive officer of their home raising their two daughters, Maria, and Isabella, allowing him to focus his time and energy on growing the business. Looking toward the future, Mr. Mazzurco hopes to dedicate more time to his family and traveling while remaining involved with H&M Landscaping and H&M Snow Pros in a limited capacity. He plans to pass along control to those who have helped him build the business.
---


The Best Time for Dormant Pruning your Landscape

2/8/21
H&M Landscaping Maintenance Division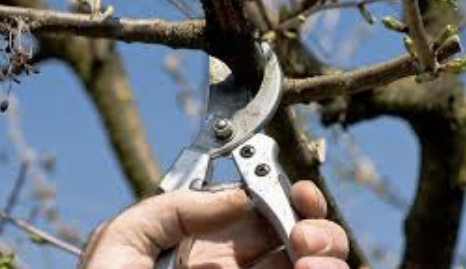 Most people don't realize that the middle of winter, especially the months of January and February, is the best time to have your landscaper prune your plants and trees in the Greater Cleveland Area. This is when the plant and/or tree is dormant and there is very little sap and bleeding from a fresh cut. This is also a great time to see the actual shape of the trees, since all of the leaves are long gone. Flowering and ornamental trees with fruit-bearing plants benefit enormously from the winter pruning because it will increase the flowering production come springtime. White Pines and evergreens should be thinned out at this time as well, as the weight of heavy snow and ice can snap off their limbs. Please give H&M Landscaping a call to have a trained professional help with the process of winter dormant pruning. Cleveland may be bitterly cold now, but spring is coming!
---


Plan Your New Landscape This Winter

1/25/21
Landscape Design/Sales Team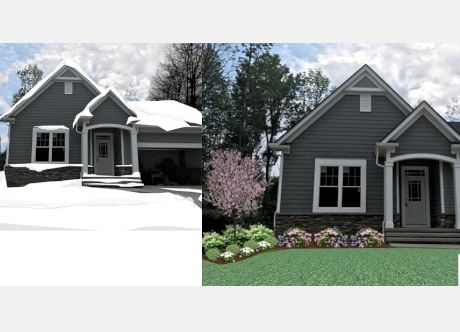 There's a thick layer of white stuff throughout the yard. Drifts of snow curl around pine and spruce. The roads are edged with blackened slush. Unseen, neighborhood squirrels and sparrows snuggle in their lairs. Howling winds take the shine right off your shoes. If you are considering landscape improvements to a residential or commercial property, the dead of winter is the ideal season to contact one of H&M Landscaping's sales associates. He or she will be pleased to hear from you.

Thinking of a new patio with concrete pavers or fired brick, or maybe Bluestone or textured and tinted concrete? Now is the time to call. One of our experienced sales associates will work with you to design the ideal patio - shape, size and top quality materials like Unilock pavers, retaining walls and fire pits. How about coming home to a complete outdoor living space using Belgard products? Or maybe a built-in gas grill with masonry walls and a granite top is on your wish list. We will be happy to prepare your drawings and pricing and you'll be first in line when the robins return. You'll be grilling while the neighbors are still waiting for other contractors to come out and look at the site.

Would a fresh lawn and new plantings make the yard a pleasure to enjoy? It's hard to imagine with all the snow covering the Petunias. H&M is ready to survey your property and develop a plan for installation in the spring. Is there a water feature in your future? Will the soothing sounds of a fountain or Koi pond or waterfall ease your daily stress? Call H&M today. We can put together a bid for your new water feature or Aquascape Koi Pond that will make you the envy of your neighborhood.
---


H&M Designs Your Relaxing Living Space for 2021

1/11/21
Mark Mazzurco, Company President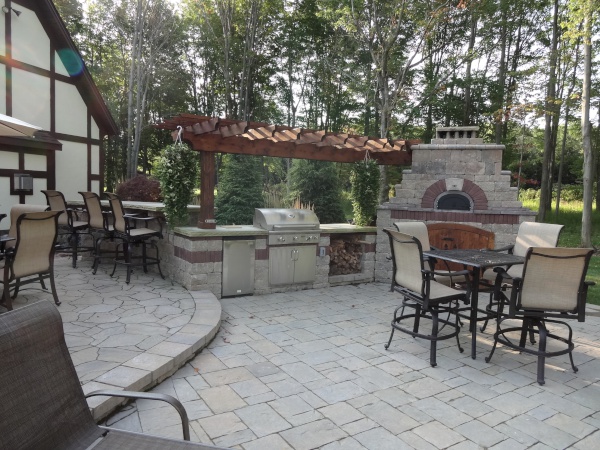 According to Reuters, an American professional works an average of 55 hours per week. Outside the office, they have an average of 30 hours of family commitments or obligations per week, 10 hours of other commitments and sleep an average of 7 hours per day.

If my math is correct, that only leaves 24 hours for the entire week to sit down and relax. With the New Year here, why not let H&M design your new outdoor living space for 2021. Imagine your own outdoor kitchen, right out the back door, where you can grill up a steak or even bake a pizza. You work hard and play hard, but don't forget to slow down and enjoy your property this summer.

Call H&M Landscaping and let one of our design professionals create the backyard of your dreams. Isn't it time to "just say no" to carry out and bake your own pizza? Mangia! Mangia!
---


Landscape Construction Material Recycling for the New Year

12/28/20
H&M Landscaping Construction Division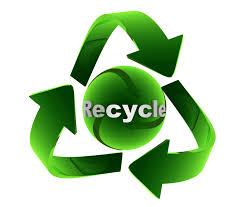 With the start of the new year upon us, one of the greatest impacts that you can make to better the environment is to recycle! If you have not started this practice, why not make it a resolution for this year? When applied to your landscaping, recycling can extend to many materials used in and around the house. A good example would be recycled materials for decks, such as composites. Local Cleveland area municipalities will occasionally have pavers from old streets that have been repaired and then sold to the public. These pavers could be used for inlays and other retro designs. Every little bit that one person can do is a benefit for the environment and can be a sustainable way improve your landscaping.
---


Winter Preparation for Plantings in Northeast Ohio

12/14/20
H&M Landscaping Maintenance Division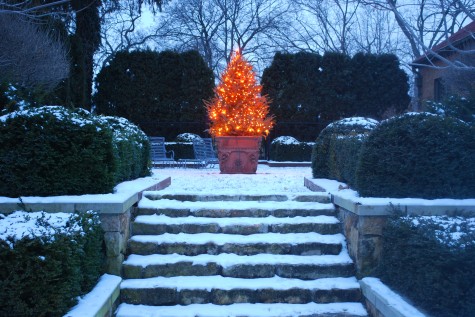 The past few days have been a wonderful break for the typical December winter weather in Ohio. With temperatures staying in the 50s and above freezing during the nights, our landscapers have been pruning and repairing tree damage from the recent heavy snow. We are available to straighten and replant any uprooted trees since the soil has not started to freeze yet. The soil water and nutrients are still available to the roots and will provide a quick start in the spring.

Before the harsh temperatures become prominent, consider removal of plant material in pots. If the pots and the plants they contain are exposed to low winter temperatures, the plants can freeze and perish. They can be transferred to a landscape bed and mulched in to help over winter them. After the plants and soil have been removed from the containers, any concrete pots should be sealed, covered and stored for the winter. Alternatively, potted plants can be moved into an attached garage or a heated shed where temperatures will remain above freezing. H&M wishes everyone Happy Holidays and reminds our loyal customers to reach out to us anytime for all of your landscape needs.
---


Cleveland Pools & Spas - Start Planning Now

11/30/20
Mark Mazzurco, President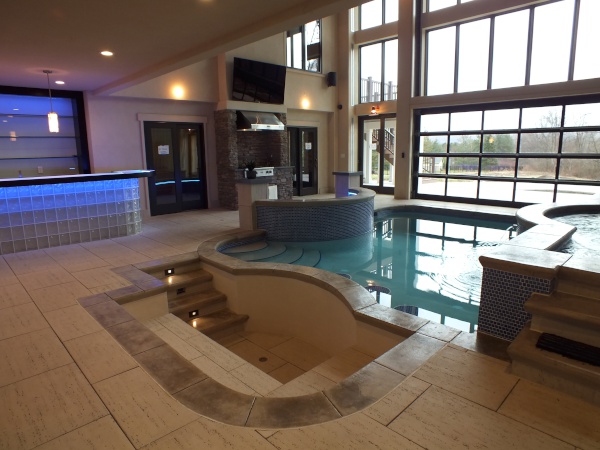 Did you know that H&M Landscaping installs pools? We have expanded our resume in recent years to encompass design and installation of pools and spas in the Greater Cleveland Area. Not only can we design and develop your outdoor living space, but we can also incorporate a pool or spa that you and your family can enjoy on a daily basis. One company that does it all- no more dealing with multiple contractors, the pool guy, the fence guy, the irrigation guy. We bundle the entire project to make it a seamless experience. Even though our Northeast Ohio winter is about to get started, now is a great time to start planning for a pool or spa for your outdoor living space. Contact us today for a free quote and come see the difference experience makes.
---


Northeast Ohio: Putting Your Landscape to Bed

11/23/20
H&M Landscaping Maintenance Division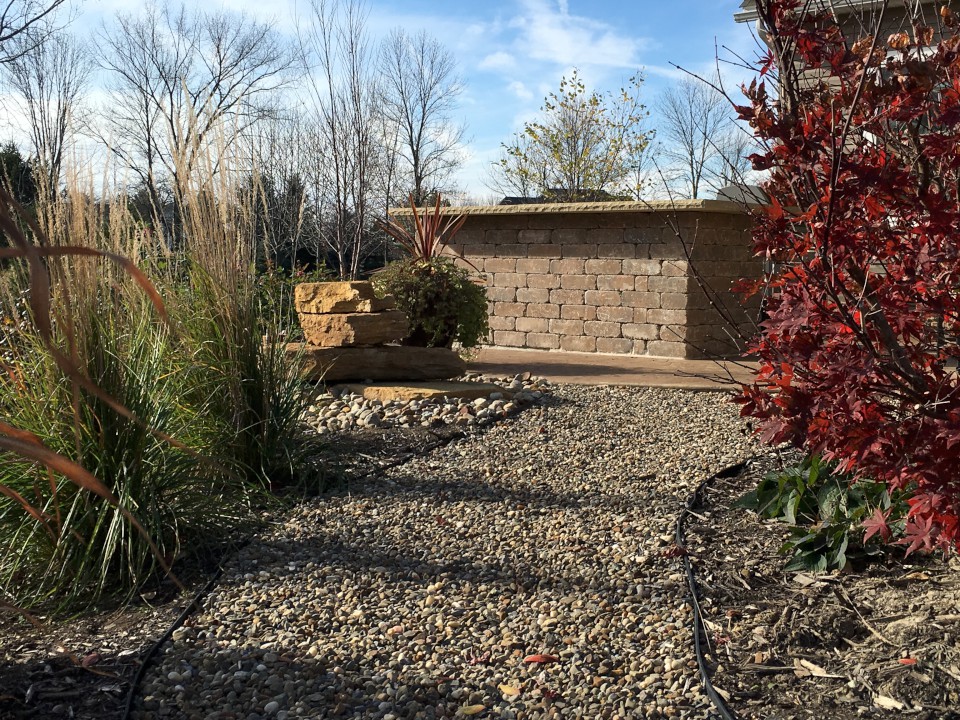 The holiday season is upon us once again and as we focus on family, friends, trips, and travels, let's not forget to tuck in our landscaping for a snug winter's nap. Just like changing out the smoke detector batteries and adjusting our clocks, landscapes need our attention as well. Take a thorough look at your property and note any trouble spots. For instance, low areas that hold too much water, weak and/or crowded plants, and settling issues with patios and retaining walls. These issues may not have been apparent during the summer while the leaves and patio furniture were present. Next "tuck-in" your landscaping for the Northeast Ohio winter by adding an extra layer of compost to provide winter insulation and a boost of nutrients in the spring. Avoid fertilizers late in the year to prevent new growth that can be susceptible to frost. Finally, while the weather and temperatures allow, seal concrete patios, driveways, and stone counter tops. H&M Landscaping can assist with choosing the appropriate sealer to lock moisture out of the porous surfaces of concrete and stone.

End of year maintenance or "reflecting upon the year", is a prime time to document issues and changes that have taken place with a dynamic and evolving landscape. Any notes and photos taken now (before the snow falls) can also be extremely helpful to our landscape designers as they prepare your projects for the coming spring.
---


Irrigation System Winterization and Fall Yard Cleanups

11/16/20
Nick Tinik, Director of Maintenance Operations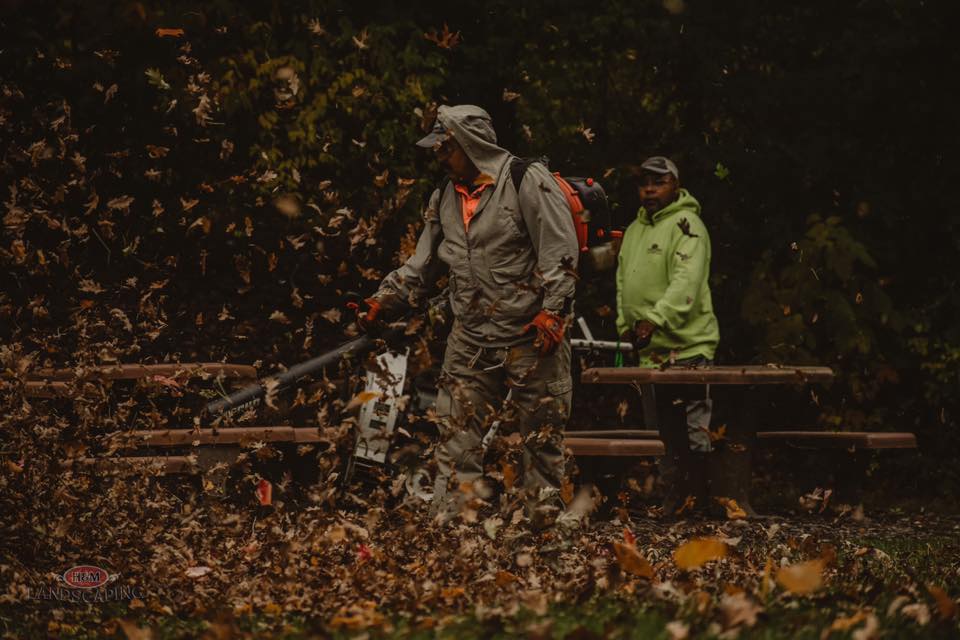 H&M Landscaping is currently working through fall clean-ups and winterizations of irrigation systems for our Cleveland Area customers. Our landscape service crews are also busy cutting down perennials and ornamental grasses to ready these plants for the winter. H&M's irrigation techs are blowing out irrigation systems to ensure that there's no water left in the lines when the ground temps go below freezing later this winter. We service all types of irrigation systems including both Hunter and Rain Bird. If your property isn't winterized yet or you need a fall clean-up, give us a call today and we'll come out for a free estimate to get you prepared for winter.
---


Belgard Versa-Lok Retaining Wall in Pepper Pike Ohio

11/9/20
Steve Fuller, Construction Supervisor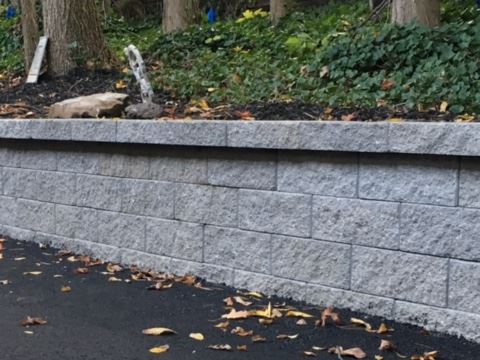 H&M Landscaping installed a beautiful new Belgard Versa-Lok retaining wall in Pepper Pike, Ohio. The client needed this retaining wall to support the grade change on their property and our hardscape certified technicians expertly completed the project with the following steps: First and foremost, we excavated below the starting point of the wall to reach a solid sub-grade. Next, we installed a base material at six inches (five of the six inches of #617 limestone- compacted in two inch lifts) and finished off with compacted highway sand and limestone screenings. Once the base material was installed, we were ready to start laying down the Versa-Lok product. Each piece of block has two Versa-Tuff pins installed that extend through the block and into the bottom unit. We then installed perforated pipe (wrapped in fabric) and back-filled with washed gravel for proper drainage. Finally, we installed the Versa-Lok cap unit using a high strength waterproof glue for maximum adhesion. You can trust a job like this to the trained specialists at H&M Landscaping- we would love to come out to your property and help you with your project.
---


Multi-Division Landscape Installation in Bainbridge Ohio

11/2/20
H&M Landscaping Business Development Team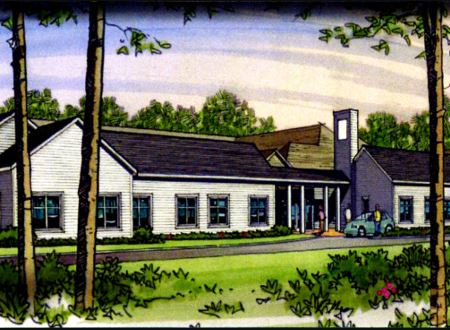 H&M Landscaping was proud to be involved with the landscape installation for the Weils Memory Care Pavilion in Bainbridge Ohio. The project involved coordination between every division of the company. Our Construction Division installed an arbor and cedar fencing. Our Masonry Division installed stained concrete patios, walkways and hand rails. H&M's Hardscape Division installed Belgard retaining walls and a self contained water feature. An irrigation system was installed by our Irrigation Division and the softscape crews and Maintenance Division provided plant and turf installation as well as miscellaneous amenities required at the site.

No matter how complex, H&M Landscaping has the resources and expertise to tackle any project at any scale. Please contact us now for any and all of your landscaping needs.
---


Northeast Ohio Landscape Design and Installation

10/26/20
H&M Landscaping Construction Team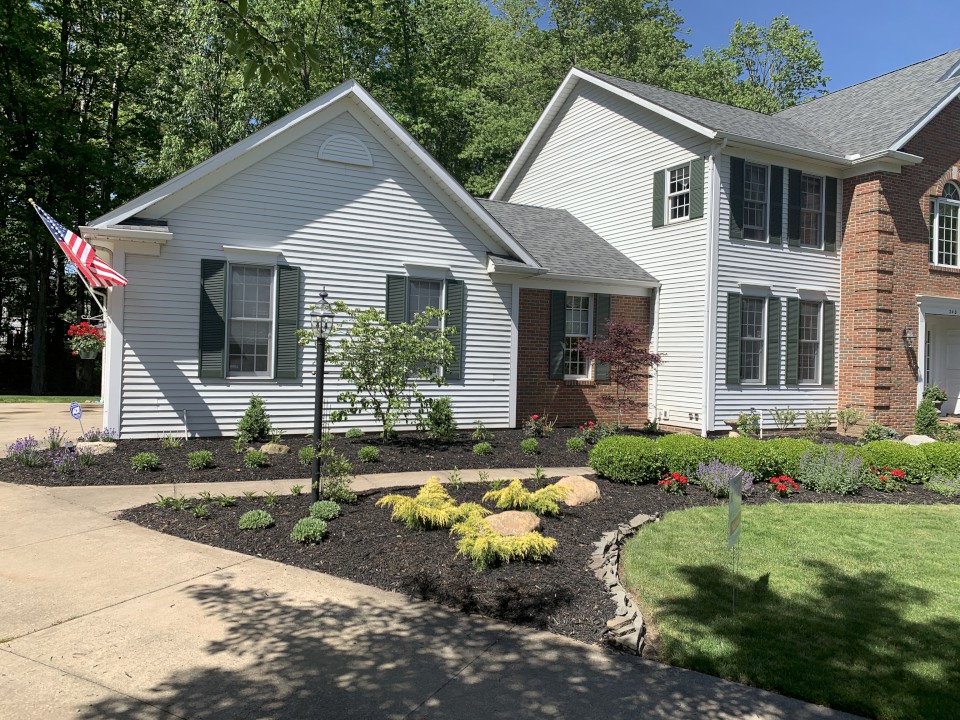 As we all know, Northeast Ohio has a beautiful display of colors this time of year. However, with the falling leaves comes the colder weather, and many of us begin dreaming of Spring, sunny skies and the colorful emerging landscape that comes with it. Why not get a jump-start on next year by working with H&M Landscaping to create your dream project THIS YEAR! Yes, there is still time to have Cleveland's premier landscape design/build firm help you ease into next Spring. That way, all you'll have to do when great weather returns is sit back and enjoy the view.

Cooler, more consistent temperatures and soil moisture levels make Fall a perfect time to plant many varieties of trees and shrubs. Coupled with our award winning team of designers and hardscape professionals, H&M Landscaping can transform your property into the space you've always dreamed of. It's not too late to make your landscape the envy of the neighborhood!
---


H&M Landscaping Fall Clean Up Tips

10/19/20
Nick Tinik, Director of Maintenance Operations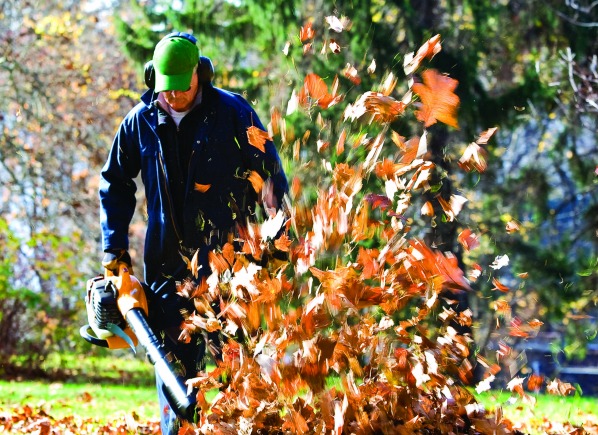 Fall is a very important time of year for your turf areas and planting beds when preparing for our cold winter months creeping up ahead. H&M fall clean up services start you off in the right direction which is key to a thriving spring. Here are some important fall maintenance tips when dealing with turf and beds.


1. Grass should be cut fairly short with properly sharpened blades. This helps the aesthetics of a lawn with an even re-growth.

2. Be sure to properly fertilize your lawn. A final feeding is vital to assure that lawns survive our harsh and bitter weather conditions. H&M Landscaping offers today's top performing fertilizers.

3. Planting beds and turf areas should be free of all debris and excess yard waste- such as leaves and branches. Remaining waste harms lawn surfaces by suffocating the smothered areas causing bare spots. H&M fall clean ups aid in your lawn's rejuvenation come spring.

4. When dealing with landscaped beds, shrubs should be properly pruned- promoting a healthy re-growth. Perennials should ideally be cut down during fall to eliminate unsightly perennial skeletal remains and also minimize shock to new growth in the spring.

I hope these tips help you during your fall clean up and winter preparation! If you have any questions, contact one of our friendly H&M Pros to help guide you along the way.
---


Alternative Landscape Design Options for Decks

10/12/20
H&M Landscape Design Team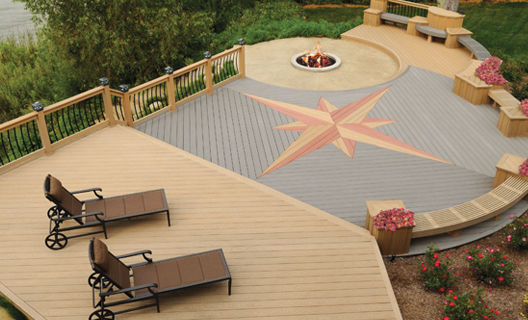 When thinking about or designing a deck, do not limit the project materials to composite decking or treated lumber. Consider steel beams to traverse longer distances which can then be clad in decorative accent woods, incorporate stone inlays and use glass or cable railings. Angled vs. traditional layout and a curved vs. standard deck are options to preserve ideal views and separate different areas. With the advent of composite decking, such as TimberTech and TREX, it's now possible to have a curved deck that also includes a travertine tile inlay using a product by Silca System located in Alliance Ohio. Let the professionals at H&M; Landscaping help design your next deck project and bring that outdoor space of your dreams to life!
---


Protect Your Lawn Irrigation System Now

10/5/20
H&M Irrigation and Lighting Team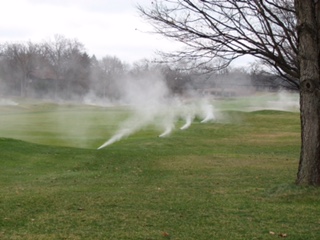 What's the best way to protect the investment you have in your sprinkler system and to avoid unneeded costly repairs in the spring? Winterizing your sprinkler system involves removing water from the pipes, valves and sprinkler heads (in the proper sequence) and is essential before freezing occurs. With our harsh Cleveland winter just around the corner, now is the time to call H&M Landscaping to schedule your winter irrigation shut down by one of our professional irrigation technicians. It's the best way to protect your irrigation investment from potentially serious damage. Please give us a call today to schedule your appointment with our Irrigation Team.
---


Natural Stone Retaining Wall in Kirtland Ohio

9/28/20
H&M Construction Team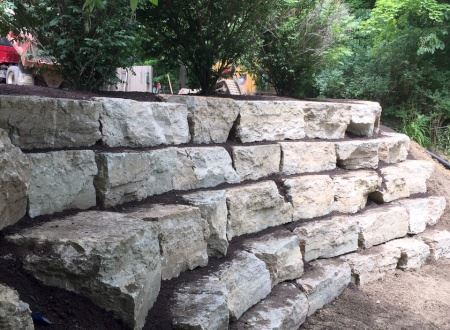 H&M Landscaping installed this natural stone retaining wall using "Rustic Buff Chunks" in Kirtland Ohio. The customer requested installation of a chunk stone retaining wall, 25 to 27 inches thick, due to a serious erosion issue on a steep hillside. It is important to install this type of wall on top of 3 to 4 inches of washed gravel base. Once the gravel base is installed, the stone can be installed in rows. As each row is installed, the wall must be back filled with #57 gravel to help with drainage behind the wall. This process continues until the wall and ground are level. If a natural stone retaining wall sounds like a good fit for your erosion problem, please contact our office and one of our sales associates will meet you for a free consultation.
---


Fall Yard Cleanups in Cleveland and Northeast Ohio

9/21/20
Eddie Murillo, Maintenance Supervisor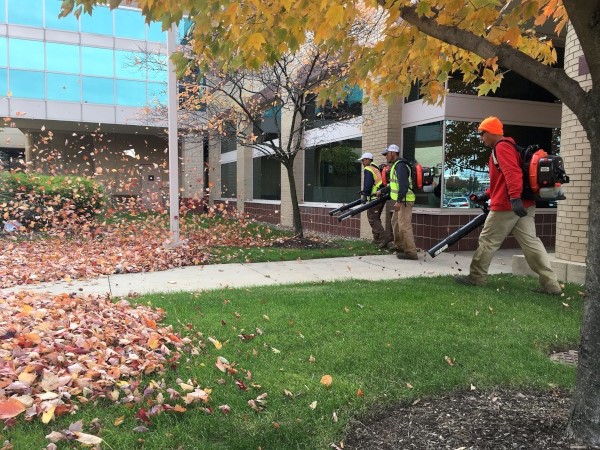 As summer finally winds down this week and the fall season begins, H&M will be doing hundreds of cleanups for all of our maintenance customers in Cleveland and Northeast Ohio. We do weekly cleanups by removing all leaf debris from lawn and bed areas. This is done both manually and mechanically with the latest leaf blowing equipment.

Weekly maintenance of your lawn creates a clean and long lasting curb appeal. To maintain a beautiful lawn throughout our upcoming colorful fall season, please reach out to one of our team members today to ensure availability. We will be happy to stop by and give you a free estimate for discounted pricing.
---


Fall Landscape Planting Considerations for the Cleveland Area

9/14/20
H&M Landscaping Softscape Team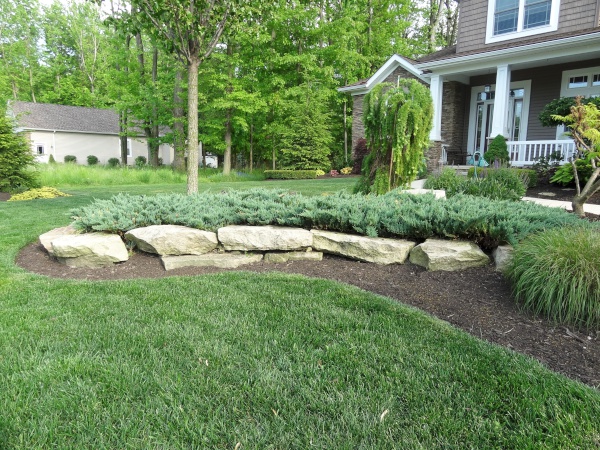 Fall can be the best time of year to transplant the shrubs or perennials that you have been wanting to transplant or split up. With the major Cleveland area heat waves gone and the longer days growing shorter, the plants are less stressed when we move them around the landscape, at the end of August and beginning of September especially. Be sure to keep all transplanted plants watered enough to keep the soil around them moist.

The cooler temperatures mean that it's time to think about planting bulbs as well. This is usually done in the fall when the leaves are starting to change colors. It can add some beautiful spring color to your landscape when they flower in April!
---


Wet Weather: Solve Your Landscape Drainage Issues

9/7/20
Mark Mazzurco, President


Most customers feel that when they have a drainage problem, their main concern is getting rid of the soggy area or the standing water they have in a particular area of their yard. With the recent flood producing rains, drainage problems can cause many forms of landscape damage in addition to that wet unsightly area. Here are several issues a drainage problem can cause:

1. Root rot on plants/turf causing plant loss or thinning grass
2. Water infiltration inside you house including musty smells
3. Stuctural damage from fungus and health issues from mold
4. Settling or uneven hydraulic pressure on patios & hardscapes
5. Freeze thaw issues in the winter from water saturated areas

Don't let water issues get you soaking wet under the collar! Most people think that the only way to resolve a drainage issue is by digging up the yard and bringing in tons of stone and perforated pipe. This ultimately results in having to replant all of the grass after tearing up the entire lawn.

We are here to debunk that myth. With today's technology, we can come into your yard, sod cut the area that you are having issues with, remove the dirt and install a new revolutionary product called EZflow. After installation, we put the sod right back in place over the top of your new drainage system. No more wheel barrels of stone and messy clean ups.
---


Northeast Ohio Summer Grass Issues & Fall Fertilization

8/31/20
Jerry Wilthew, Turf & Grounds Account Manager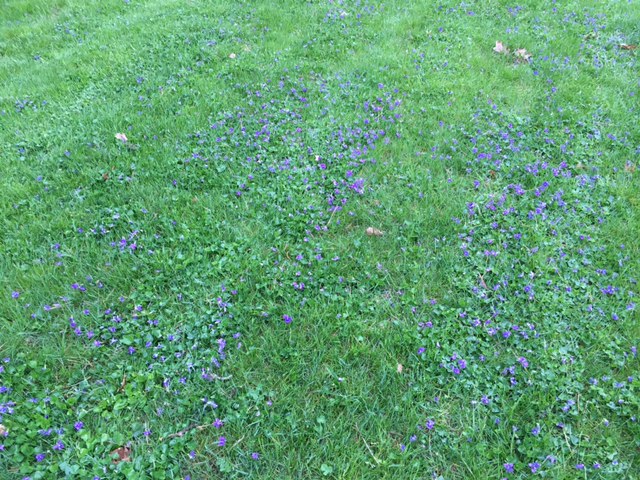 The rains have finally started falling again and the dog days of summer are almost behind us. Lawns have responded well to the much-needed precipitation we have experienced recently. Some lawns that have not responded well though have other issues that may need to be addressed. Heavy thatch layers, insect damage and fungus damage are a few that we have encountered. Deep thatch layers have to be removed to encourage better growth. Consider total removal or an ongoing, heavy aeration program; one quarter to one half inch thatch layers are considered acceptable.

Certain insect and fungal pathogens can kill the entire plant. Most just cause damage to the blades of the grass and you will see recovery. If you suspect total plant failure, you might consider over-seeding into bare areas.

Since most grass has greened up, you might think nothing needs to be done this fall. Do not forget to feed your turf. If you only fertilize once, fall is the time to do it. All the nutrients will be stored in the roots of the plants, enabling them to be ready for next summer. Fall is also an optimal time to deal with any unwanted weeds that have popped up this year.

Lawns are resilient systems that are built to withstand the stresses of summer. If you have any concerns about the health of yours, give us a call and we would be glad to help with suggestions to improve your curb appeal.

---


Paver Patio & Bocce Ball Court Hardscape Installation

8/24/20
Brian Franko, Hardscape Supervisor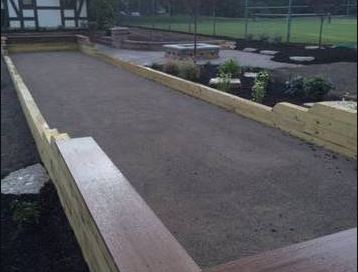 H&M Landscaping had the pleasure of working with Mayfield Country Club to install a Bocce Ball Court and patio in their beautiful South Euclid, Ohio location. Surrounding the court are numerous VERSA-LOK seating walls and pillars, accented with Belgard Holland Stone in the Harvest Blend color. No patio entertainment area is ever complete without a custom-made fire pit with custom Sandstone caps to finish it off. The cherry on top for this project - we surrounded the area with colorful planting beds filled with beautiful trees, shrubs and perennials and peppered Canyon Tan outcropping stones throughout.

If an outdoor project like this is on your mind but you don't know where to start, call H&M Landscaping. One of our experienced sales representatives will be happy to meet you and help you to explore the endless possibilities. Give us a call today for a fast, friendly and above all, FREE estimate.

---


Cleveland Area Irrigation and Landscape Lighting Services

8/17/20
H&M Landscaping Irrigation and Landscape Lighting Team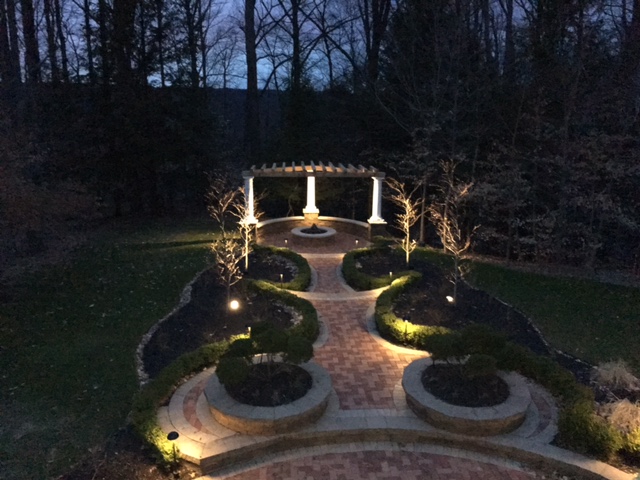 H&M Landscaping designs and installs landscape irrigation and lighting and can provide service to your existing system. With the lack of rain over the last few weeks, an irrigation system makes it much easier to keep your lawn and flower beds looking great all summer long. As the days start to grow shorter, landscape lighting lets you enjoy your yard and keep it safe well into the evening hours. We can change out your lamps to effecient LED lighting and diagnosis any electrical issue with your current lighting system. We offer irrigation maintenance plans for spring activations and winterization before the ground freezes up in the late fall. From routine service calls to quick fixes for system problems, call H&M Landscaping today for all your irrigation and lighting needs.

---


Seating Wall and Pergola Installation in Gates Mills

8/10/20
Steve Petersen, Senior Construction Supervisor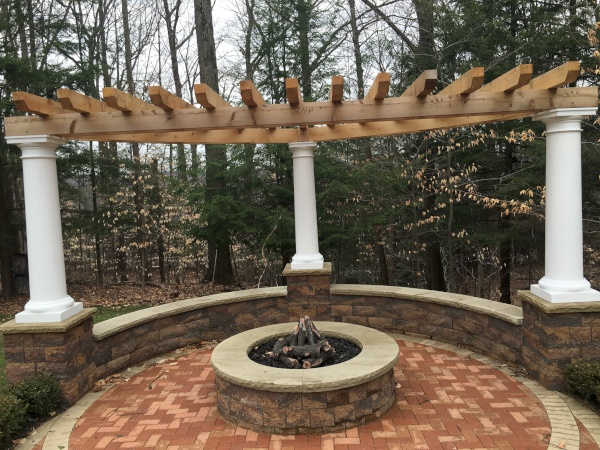 H&M Landscaping installed this Belgard, "Harvest Blend" color, Versa-Loc seating wall and pergola in Gates Mills Ohio. This was a surround to an existing patio with 3 posts anchored into the ground to support the pergola. We first, excavated down 10" and installed base material and compacted screenings for leveling. Once the base was ready, we set the Versa-Loc for the pillars and the walls using a construction adhesive to hold the wall together.

A sandstone cap was installed that features rock facing on both sides to give it a natural look and white fiberglass columns were added over the posts to match the front of the house. The strong frame for the pergola was constructed to support the cedar beams which were installed and fastened in place while the finishing touches on the corners were completed. If you would like a seating wall, pillars or a pergola like this built, please contact our office and a sales person would be happy to visit your site and assist you in the process.

---


H&M Landscaping Lawn Maintenance Division

8/3/20
H&M Landscaping Lawn & Maintenance Team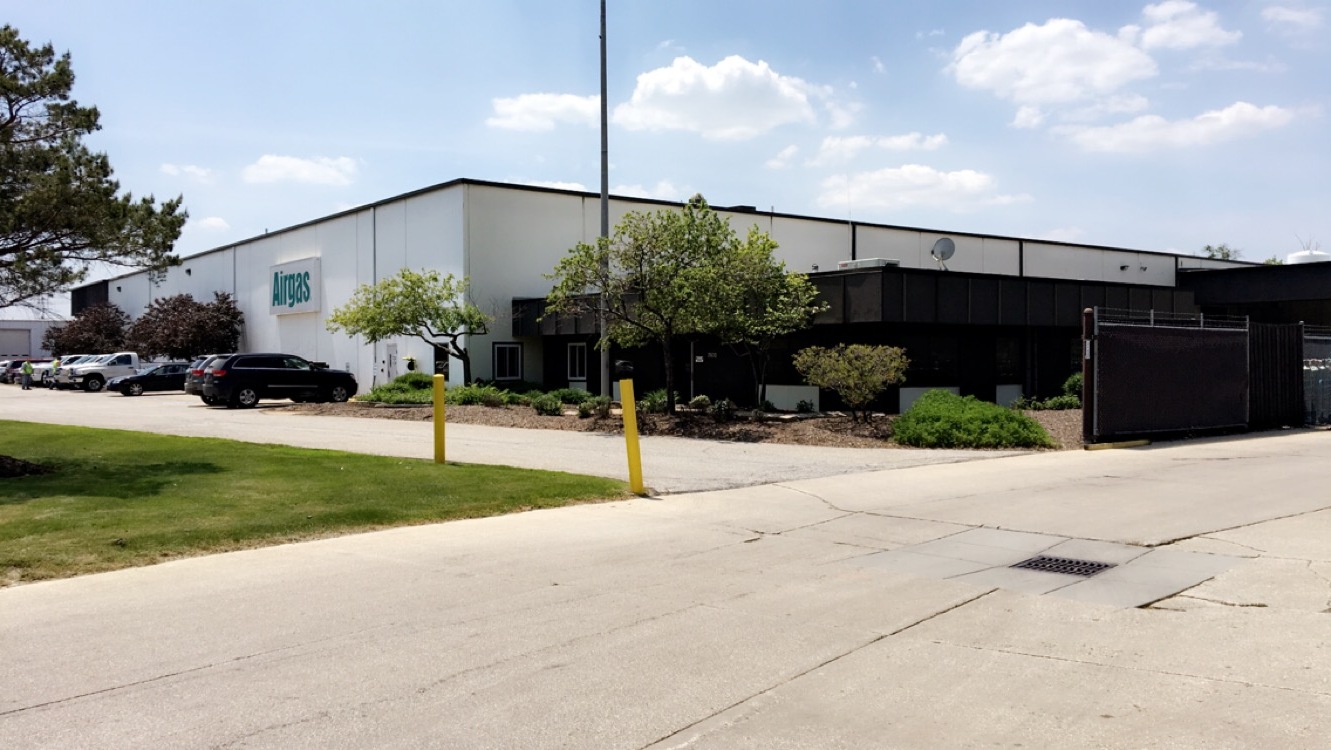 H&M Landscaping Lawn Maintenance Division provides property maintenance to residential and commercial customers in the Greater Cleveland Area and all of Northeast Ohio.

Many of our clients are full service maintenance customers. We provide weekly lawn maintenance, shrub trimming, fertilizer, plant fertilizer, mulching, and both spring & fall clean-ups.

We strive to make each property we visit look the best it possibly can. Please call us today for a free, no obligation quote to get your property looking it's best!

---


Effective Weed Control for a Great Looking Lawn

7/27/20
Mark Mazzurco, President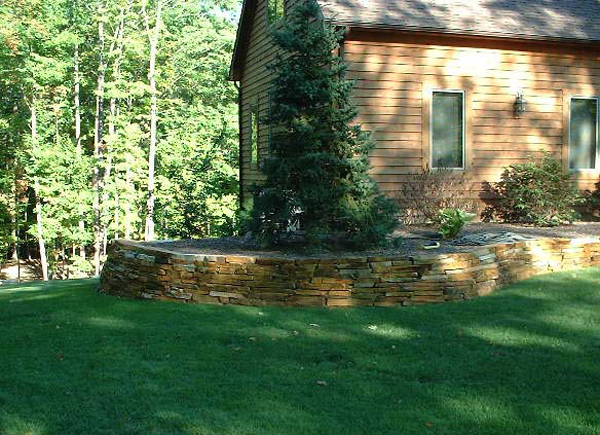 Those not so beautiful perennials that grow in the middle of your lawn, they're everywhere! Most people have them (unless of course you're an H&M customer) and everyone wants to know the best way get rid of them. Here are 3 ways to keep your lawn looking like a golf course fairway:

1. Fertilization: A 6 step program is the best way to keep weeds out of your lawn. The key is to keep your lawn growing thick and filling itself in.

2. Aeration: Aerating your lawn will reverse compaction of your soil and enable water and nutrients to reach the roots faster and easier.

3. Thatching: Removing that unsightly dead grass allows the existing turf to continue to spread and grow unhindered.

Call H&M Landscaping, Cleveland's #1 turf maintenance professionals, to manage your turf today. Come see the difference experience makes!

---


Stone Wall and Landscape Installation in Pepper Pike

7/20/20
H&M Construction Team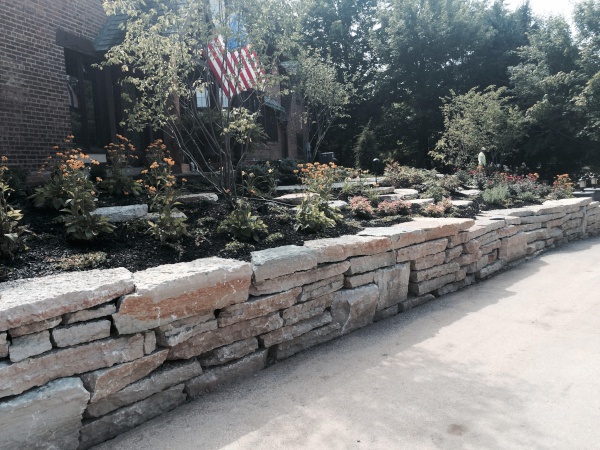 H&M Landscaping installed a new stone wall and landscape plantings in Pepper Pike. We used Belgard's Versa Loc wall stone "Oxford Charcoal" for the entry wall and "Rustic Buff" and "Cannon Tan" stone for the wall along the driveway. The stone was set on #411 base with drain tile installed behind wall and backfilled with #57 washed gravel. For the front walkway, we used full range bluestone with 3" bluestone treads on the steps. Grey polymeric sand was installed between the joints to stabilize the walkway. The landscape beds were prepared and amended with bed mix. Plantings were then installed and mulched with double processed black mulch.


If you're interested in having a landscape installed like this, please contact our office and one of our sales associates will call you to set up and appointment.

---


Mid-Summer Landscape Pruning Tips for Northeast Ohio

7/13/20
Eddie Murrillo, Maintenance Supervisor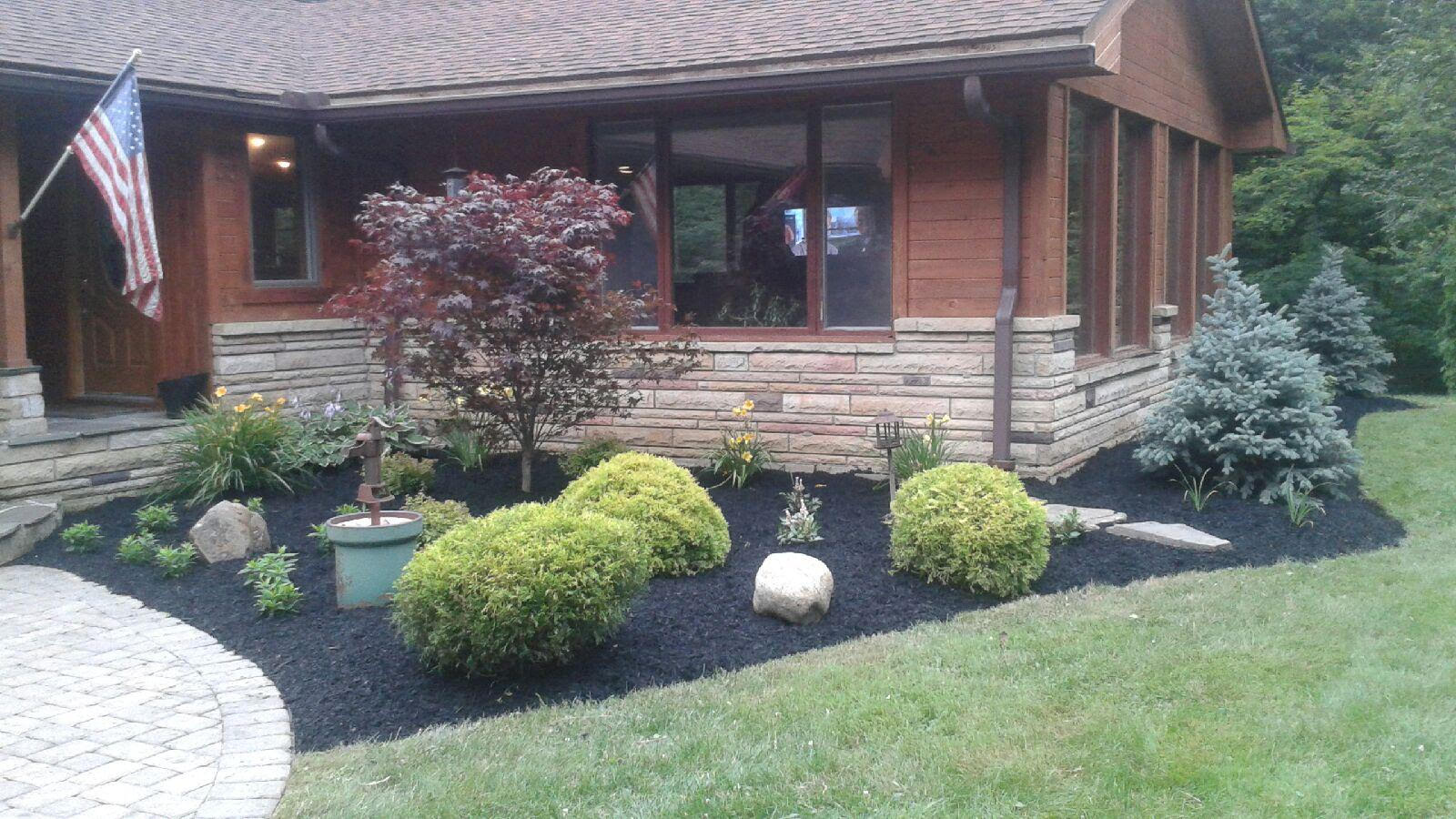 Mid-summer pruning can be difficult to do, especially when buds have already established. The majority of flowering trees, shrubs and perennial plants can be deadheaded to get the most color with new flowerings. However, keep in mind that many plants have already established new year buds. If you prune your shrubs any further (or not properly) and remove new year buds, this can cause problems in flowering for next spring. For example, Azaleas and Rhododendrons have already established buds for next year and should not be pruned but detailed instead.

The professional pruning and detailing crew at H&M Landscaping is experienced in a variety of shrubs, trees and perennial plants. To insure proper pruning and the best outcome for next spring, please give us a call and we will be more than happy to assist with all your landscaping needs.

---


Heat-proof Your Outdoor Living Space

7/6/20
Mark Barker, Landscape Design / Sales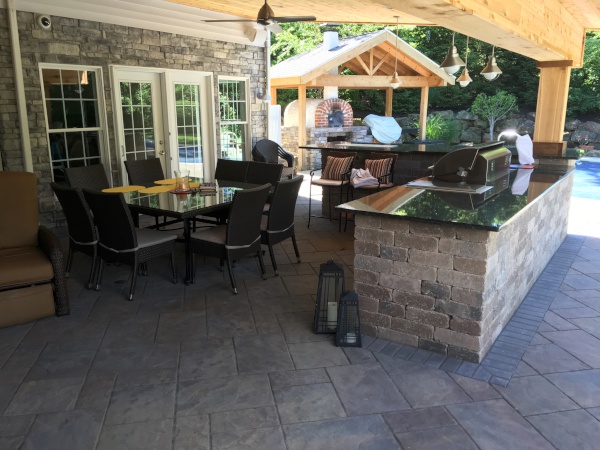 Do you have a cozy outdoor living space but can't seem to beat the summer heat? This customer in Richfield Ohio had a great outdoor living space but no where to take cover from the sun.

Installation of overhead cedar cover, Brussels block pillar, Brussels block outdoor kitchen with granite counters provided the comfortable living space they were looking for. The thermal mass from the block and granite, chilled by nighttime temperatures, help to cool the area during the day. The extra shade protects your family from harmful UV rays and also prevents outdoor furniture and upholstery from fading. Please call H&M Landscaping today and let us help you beat the heat this summer!

---


Swimming Pool Installation & Renovation in Northeast Ohio

6/29/20
Craig Kachline, Director of Construction Operations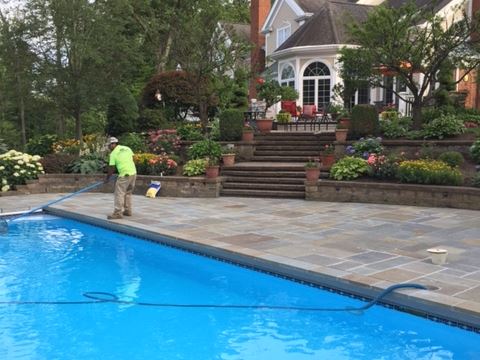 H&M Landscaping was happy to provide this pool renovation in Gates Mills Ohio. This was a complete renovation including new Pentair pumps, heater, filter, and a salt water chlorine generator to make the daily maintenance easy. The pool deck is covered in Natural Cleft Bluestone. Olympic pool paint was used in the pool and an auto cover was installed.

We use Pentair and Haywood pool products, many with state-of-the-art automation and monitoring systems. There are many styles and options available that will work well for you and your family. If you already own a pool and are looking to spruce it up a bit (or are having some problems), let us know and we can lend a hand in making suggestions and provide a free quote. H&M Landscaping can install new pools of all kinds and renovate an old, tired, outdated pool to look brand new! Call our office today to find out what we can do for you.

---


Raised Patio and Paver Walkway in Solon Ohio

6/22/20
H&M Construction Team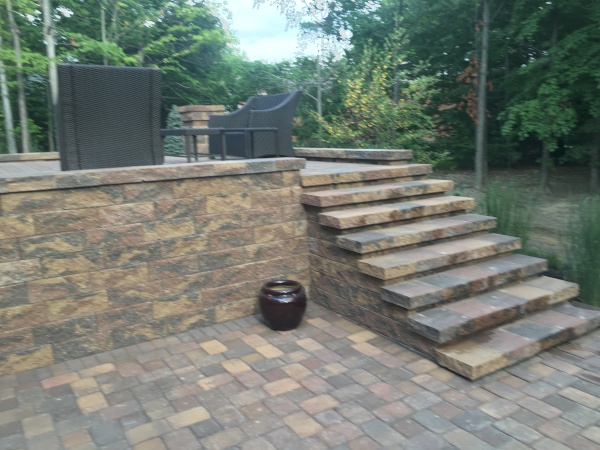 H&M Landscaping installed this raised patio, paver walkway and landscape plantings in Solon Ohio. We used Versa-Loc wall stone from Belgard (Harvest Blend) for the raised patio wall support and for the louvered seating wall around the lower patio. The Versa-Loc was set on #411 bases around the perimeter with #57 limestone compacted every 3" for the interior area which was filled to the top of the patio with geo-grid tied into the Versa-Loc every 2' to give the wall extra support. We used Cambridge Cobble paver for the patio and back walkway with the Holland Stone as the soldier course, for the border. Tan polymeric sand was installed between the joints of the stone. The landscape beds were amended with bed mix, plants installed and mulched with double process brown mulch. Landscape lighting was installed in the backyard to highlight the specimen trees and shrubs. If you are interested in having a landscape installed like this, please contact our office and one of our sales associates will call you to set up an appointment.

---


Cleveland Area Irrigation System Installation & Maintenance

6/15/20
Nick Tinik, Director of Maintenance Operations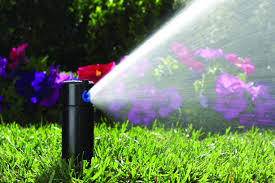 It's been dry this past week for a change and temperatures are expected to climb here in Northeast Ohio. With all the effort and hard work you've put into your yard, is your investment protected with a worry free irrigation system? Call the irrigation experts at H&M; Landscaping(servicing the entire Greater Cleveland Area) to get an old system up and running, or for a complete new install. Our staff is well versed in all types of systems- including drip irrigation, pop-up heads, rotors and spray misters. We use quality products from Hunter, Rain Bird and Toro to give you a maintenance free system with outstanding results. We've got you covered with new installs on everything from newly seeded lawns or sod, to gardens, flowers, trees and shrubs. Give our office a call today and one of our irrigation specialists will gladly assist you!

---


Outdoor Entertainment Area: Landscape Design in Hamden Ohio

6/8/20
Kevin McCausland, Assistant Production Manager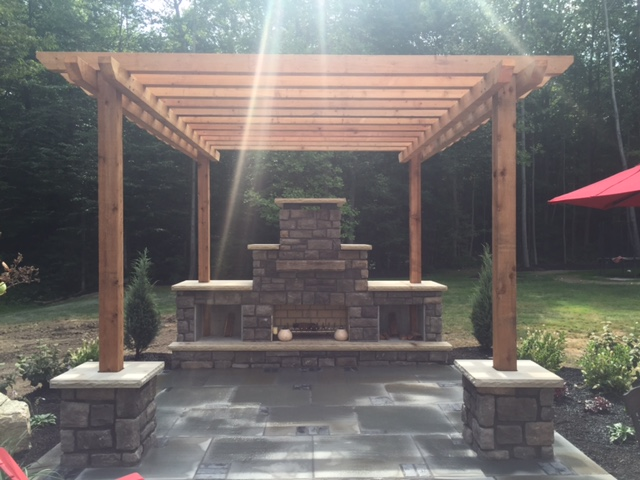 H&M completed this design/build project for a homeowner in Hamden, Ohio. Our customer wanted us to design an outdoor entertainment area where they could host small get-togethers or just enjoy an outdoor living space as a family in the evenings. We came up with several ideas and suggestions and with the help of one of our designers, we put it all together in a professional design drawing so the customer could visualize the work we would be performing. Upon agreement, we installed a custom Cultured Stone fireplace in San Francisco Cobblefield color with sandstone caps on each tier.

We also built and installed a 100% Cedar pergola over top of a uniquely designed bluestone patio with custom inlays. We tied it all together by adding this Barnstone fountainscape on the other side of the patio to provide a peaceful, relaxing ambiance. The recent warm and dry weather is perfect for building projects like this. Call H&M today to schedule an appointment to have an account manager stop by and see what we can do for you!

---


Landscape Enhancements: Take Your Property to the Next Level

6/1/20
H&M Landscape Enhancement Team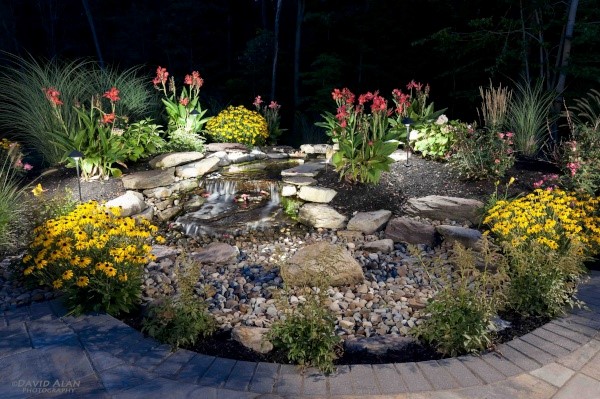 There are many ways to enhance the look of your property. For some, it may be a new patio, deck or pool. For others, the installation of new flowers, shrubs or trees may be all it takes to give a fresh, new appearance. Stone features are one way of giving your landscape a great look. We can supply and install a variety of different stone features, including waterfalls. This addition can give your property the final touch it needs to achieve "eye-catching" status.

Call H&M Landscaping today to schedule an appointment with one of our sales representatives to see what we can suggest to take your landscape to the next level.

---


Safety Quality Production - H&M's COVID-19 Safety Plan

5/25/20
Chris White, Executive Vice President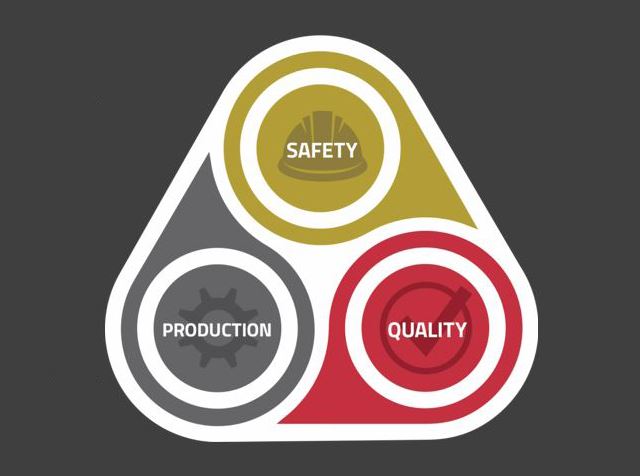 Speed - Quality - Price. Pick two! That is the old joke and many businesses hang this statement, tongue in cheek of course, in their establishments. An industry mentor and friend made me look at things in a different way. Ben Gandy told me "Safety - Quality - Production". (And you get all three). That resonated with me because I always want my staff to be safe which leads to our customers, and the public, benefitting. In the landscaping industry, safety usually means ear plugs, eye protection and making sure rocks are not thrown through windows from weed eaters. COVID-19 changed this all!

One of the odd things over the last two months was - we didn't know how to be safe in this new world. The guidance was spotty for businesses (masks or no masks, where does the virus live and for how long, how do we interact and communicate safely). It is a great time for innovation and experimentation because, what else are we going to do?

On a personal level, and as a proud Ohioan, I think Governor DeWine and Dr. Acton did an amazing job helping lead our state. Between their guidance and the CDC guidance, I was able to put together a COVID-19 Safety Plan for our staff that (so far) has allowed us to do our jobs. I watched what other industries were doing and how they were adapting. Grocery stores added plexiglass barriers. We installed barriers in our crew cab trucks so we could put more than one person in a truck. Cushman Wakefield put out a great video on Six Foot Office. We modified our floor plan so staff could return to our offices. One of our biggest hurdles early on was the reduction of fear of coming to work. We had several staff that were too scared to work. We implemented a sanitizing regimen early on, and continue to clean vehicles, offices, and high-touch surfaces. The most important process that improved was communication.

Communication about safety was paramount to our success. We had meetings in our yard (properly distanced) about safe behavior. We held brainstorming sessions to generate ideas about best practices. We held weekly Town Hall meetings to keep our people informed and give opportunities to ask questions. And so far, we have lived our Core Value of "Everyone Goes Home Safe." This is not to say we didn't have some scares. We had some drama. We had real fear, especially early on. And again, I found that communication was the solution that led to improved safety.

One of the rules of safety is - "safety is not negotiable." This puts in perspective that safety is truly black or white - either we are safe, or we are not. I also believe that current conditions require being mindful and respectful of each other as well. This situation has caused some controversy in many ways, and we need to remember that when we work together - great things happen. Our team worked together to break down barriers (only to install plexiglass barriers) for safety. For this, I am proud and grateful.

As we move forward, I realize this really goes back to fundamentals. Communicate to the people, allow them to contribute. Help them belong and feel safe. Work together for the greater good. Be mindful and respectful. Given the current reality, these things have not changed- but because there is still a virus out there, we do these safely from six feet away!

---


Want to relieve some stress? Try gardening this year!

5/17/20
H&M Business Development Team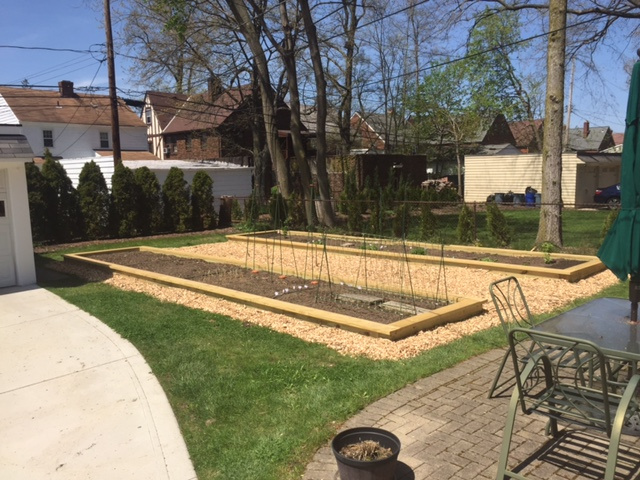 It's a proven fact, whether you take a break at work to help tend a community garden on site or come home from a tough day at work, tending to a garden is both relaxing and gratifying. H&M Landscaping employees consider themselves professional gardeners and we can help you get started this Spring with valuable advice to insure your efforts are a success. We have built large flower and vegetable gardens on corporate campuses for employees to relax and take some stress out of their day while they show off their horticultural skills. Our teams also build raised gardens for homeowners who want to plant and watch their garden grow, but may not have the time to do the initial set-up. Our landscape teams can also advise you on the best plant selections and timing of your garden to match our unpredictable Northeast Ohio weather. Give us a call today and we will set up an appointment to discuss your gardening project.

---


Hardscape Renovation in Richfield Ohio

5/11/20
Mark Barker, Landscape Design / Sales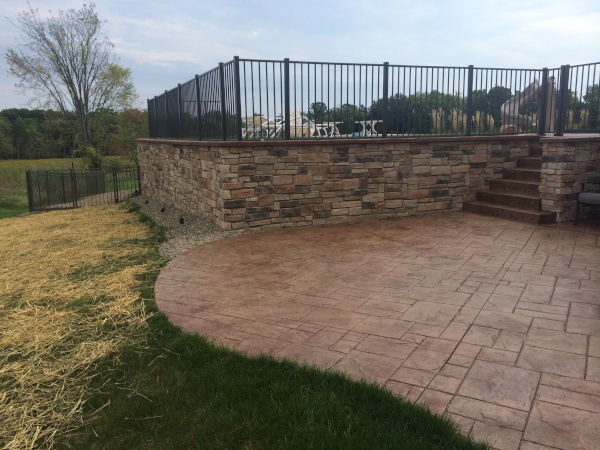 Do you currently have concrete or paver surfaces that are starting to show wear or are simply just falling apart? H&M Landscaping was called upon by a customer to provide advice and a solution to a failing masonry wall that supported their upper patio and swimming pool, along with stamped concrete surfaces that had become very dull and faded over the last several years. While meeting with the home owner, it was evident that this was an area where they spent much of their summer as a family and it was truly important to them that we provide a sustainable solution so they could continue to enjoy this space for years to come.

H&M Landscaping provided them with a solution to rebuild all the masonry retaining walls with Boral Ledge stone Cultured stone and poured concrete coping on the tops of walls. We also stripped the surface of all stamped concrete and applied Scofield Revive exterior concrete antiquing stain- all with a project timeline of 7 weeks. At the end of the project the owner was ecstatic to have a backyard that exceeded their expectations and a beautiful setting to enjoy for years to come. If you have a space requiring restoration or renovation please contact our office and we would be happy to schedule a consultation to offer a solution to your needs.

---


Cleveland Area Irrigation and Landscape Lighting Services

5/4/20
Irrigation and Landscape Lighting Team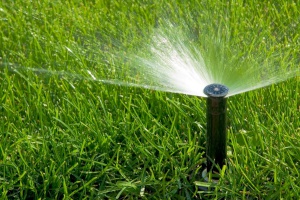 H&M Landscaping not only designs and installs new landscape irrigation and lighting, we also provide service to existing irrigation and lighting systems in order to keep them working for you as long as possible. Whether it's an adjustment to bulbs or diagnosis of an electrical issue with your lighting, our trained and knowledgeable crew can help you. We also offer irrigation maintenance for spring system activation and winterization when the dreaded cold comes back. From routine service to quick help for system problems, call us today for all your irrigation system and landscape lighting needs.

---


Spring Landscape Maintenance: Mulching & Clean-ups

4/20/20
Our Maintenance Account Managers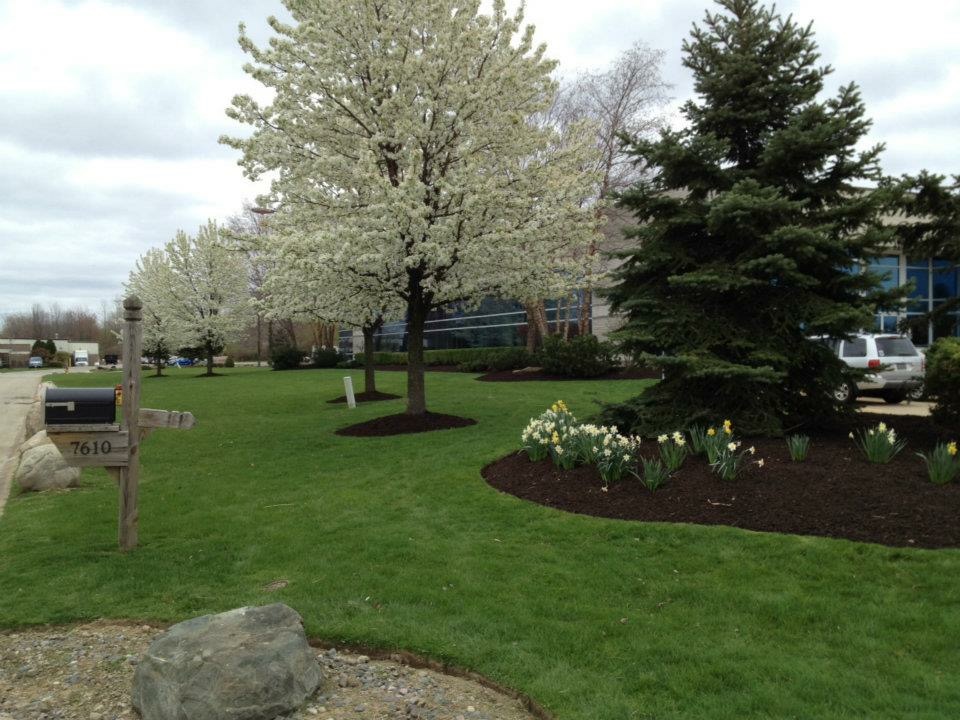 The snow may still be flying, but it's time to think about all of the warm days ahead! This is the best time to get your yard off to a good start and turn your summertime plans into reality. H&M Landscaping offers a wide variety of services - from a spring clean-up and mulching, to a deluxe maintenance program to cover all of your landscaping needs. You no longer have to lift a finger! Just sit back, relax and enjoy your beautiful yard.

Call us now (to beat the rush) and one of our experienced representatives will be happy to discuss your property's potential and all of your landscape needs for the upcoming season.
---


Professional Landscaping Spring Yard Clean-up

4/13/20
Our Turf & Grounds Account Managers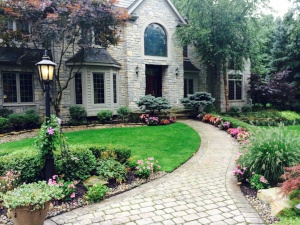 H&M Landscaping Spring landscape clean-ups are a vital part of maintaining the value and appearance of your home. Once spring comes around, your grass and spring time blooms may not be able to grow or recover from the intense freeze/thaw cycles we experienced this winter. Most homeowners do not realize the importance of of this yard clean-up aside from just the overall improved look. The main benefit you will gain from a professional yard cleanup by H&M is preventative buildup of debris and organic matter which can form a blanket which acts as a barrier between your grass and the sunlight. It can also end up blocking out water, oxygen and other crucial nutrients. When this blockage is left unresolved it can cause harm to your lawn. You should not assume this material will break down on its own. When properly chopped up and used as an organic mulch, it can be beneficial to plant life. If left on top to cover, it may smother your grass, flowers and other desirable plants.

H&M Landscaping has decades of experience taking care of this type of work and we know what goes into creating a stunning and healthy yard. Scheduling a thorough spring cleanup right now is critical to getting your landscape ready for the upcoming season. Contact us today if you would like our experts to reach out to discuss all of our landscape services.
---


Spring Tips for a Great Looking Lawn

4/6/20
Jerry Wilthew, Turf & Grounds Account Manager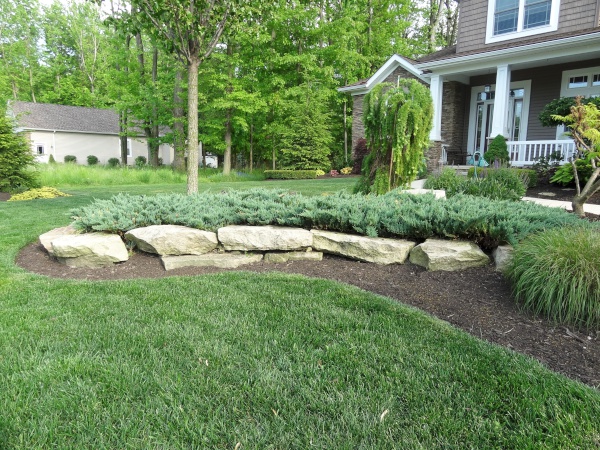 Another winter has passed us by and spring is here. We had the 2nd warmest February on record and above average temperatures for March. With that warmth, a lot of plants have been pushing growth. The weeds have been quite active along with everything else. Here are a few observations to keep in mind for this upcoming season:

1. Now is the time to get preventative crabgrass control down. If you happen to have bare spots in lawns that you want over seeded, you might want to skip over these spots to help growth of new seedlings. Remember the crabgrass control is a pre-emergent herbicide that keeps things from germinating.

2. Have a plan in mind for care of the lawn this summer. Feeding it is always important, but water is just as important. Any fertilizer that goes down needs water to help it get into the plant.

3. Cut at the proper height. Most cool season grasses like to be 2" or higher. You might want it to look like the country club fairway, but you are not set up to take care of it at that height.

4. If you are not sure what to do, give someone a call. You probably call a doctor when you are sick or a plumber when the pipes back up. Give us a call with your lawn issues.


---


Recovering from Snow Mold Damage

3/27/20
Eddie Murillo, Maintenance Supervisor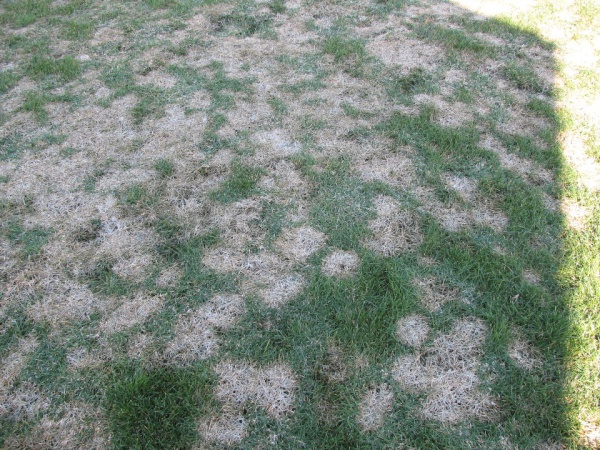 It's that time of year again, spring is finally here. H&M Landscaping has been busy doing spring clean-ups and I would like to share some helpful information that we have come across regarding snow mold. The most common types are grey snow mold and pink snow mold, named for their appearance. Both can develop during periods of cool damp weather, under a layer of snow. After time, the mold grows and can be seen after snow melt as either pink or grey round patches in your lawn. An improper fall clean-up of leaves and/or inadequate final cutting are major contributors to lawn mold growth over the winter months.


To address this condition, these areas should be raked through several times and the matted grass can be removed, allowing the grass to recover. A spring fertilizer application will also help grass recover more fully. In severe cases, some areas of turf may need to be removed- which will then require the addition of new soil and over seeding. If your yard is suffering from snow mold and you need lawn care assistance, please call us and one of our team members can help you with all of your landscaping needs.


---


Northeast Ohio Landscape Design and Installation

3/16/20
Craig Kachline, Director of Construction Operations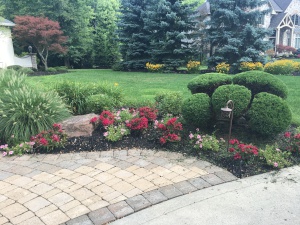 Do you have cabin fever? Are you feeling the winter blues? Well let's start thinking of spring flowers, the sun shining and enjoying the outdoors. We are having some great weather here in Northeast Ohio and we can start sprucing up your yard for spring and building a deck or refinishing a pre-existing deck. Consider adding some pops of color with flowers, fresh mulch and a deck to enjoy all of your holiday parties and summer evenings. Upgrading your outdoor space is also a great way to add curb appeal and resale value to your home. H&M Landscaping strives to exceed our customers expectations with a landscape design and installation to provide that outdoor lifestyle you dream of.

No matter if your yard is large or small we can design an area that fits your needs. A small paver patio, a refinished deck or a new multi-level deck with a pool will give you a space outside to relax after a hard day at work. H&M will work with your budget and ideas to provide a design that is customized for you and your family. We also provide year round up-keep of yards and landscapes with spring and fall cleanups to keep your new oasis pristine and beautiful.
---


Cleveland Area Landscaping: Spring Cleanups

3/4/20
Nick Tinik, Director of Maintenance Operations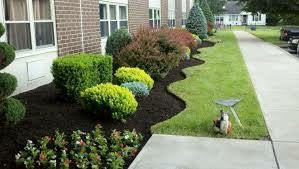 With the spring season fast approaching, it's time to start thinking about getting your yard or business landscape back in shape. H&M Landscaping will soon be out in full force around the Greater Cleveland Area cleaning up any organic debris remaining from fall and winter. Nothing says spring like a nice deep edge on the beds and the smell of some fresh organic mulch. Give us a call and get a free estimate from one of our sales specialists today!
---


H&M is "Best in Show" at Cleveland's Home+Garden Show

2/10/20
Kathy Hupp, Office Assistant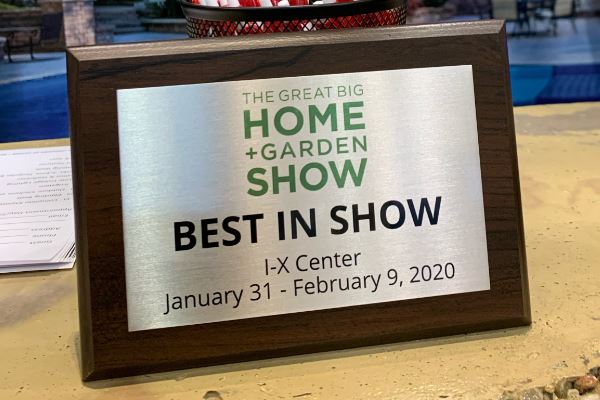 H&M Landscaping is honored to have received the "Best in Show" award at the Great Big Home + Garden show that concluded yesterday. We hope you had the opportunity to visit our booth while you were there and see our award-winning Vintage River Falls display. If you did not, now is the time to call our office at 440-564-1157 to schedule a design consultation. One of our sales associates will be more than happy to meet to discuss your landscape dreams for this season.

People Serving People to Enhance Everyday Living