Cleveland Landscapers Blog
Landscape News, Tips and Advice
from H&M Landscaping


Landscape Enhancements: Start with a Design Plan

6/17/19
Kevin McCausland, CLT, Assistant Production Manager

Good day and thank you for stopping by the H&M Landscaping website and reading our blogs. Our goal is to help our customers, past, present and future. One way we can do this is through small enhancement projects. Below you will see some representations of enhancement pictures with drawings on them. These are used by our team in several ways. We want to show our customers what our ideas and plans are. And if the customer decides to move forward with the work, we have a 'plan' to hand the crew who will be installing the plant materials. This saves our customers time and eliminates confusion.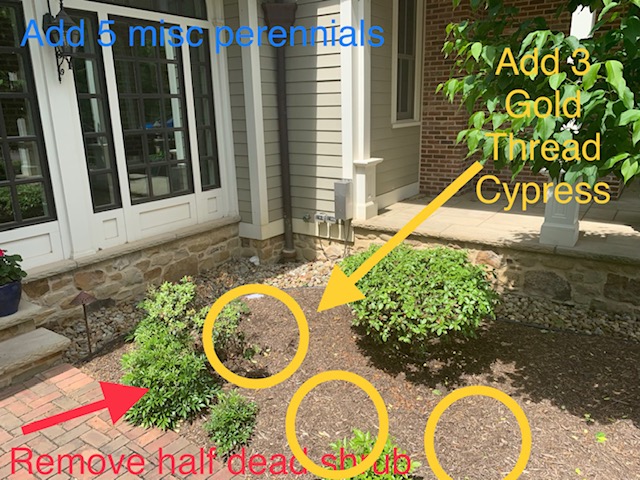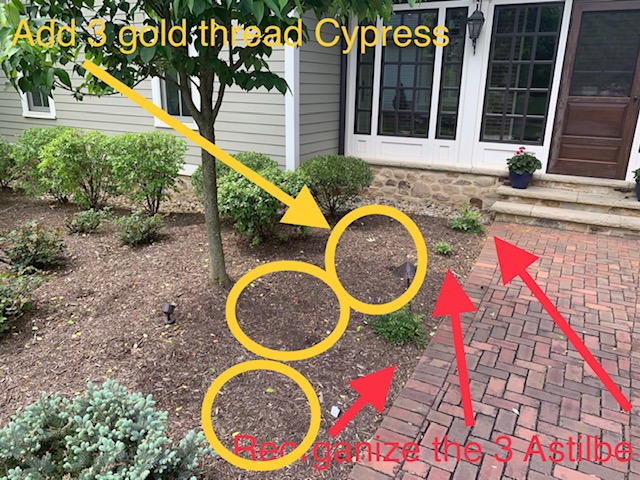 If you think there is a small project you would like to tackle, call any of our qualified account managers and we would be happy to put together a design like the ones shown here, a 3-D flyover design, or a more traditional computer design. The best part is that we will estimate your project at no cost to you. We hope to talk to you soon!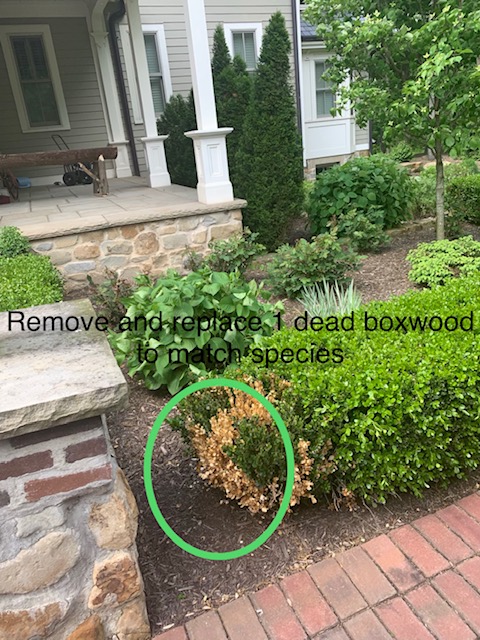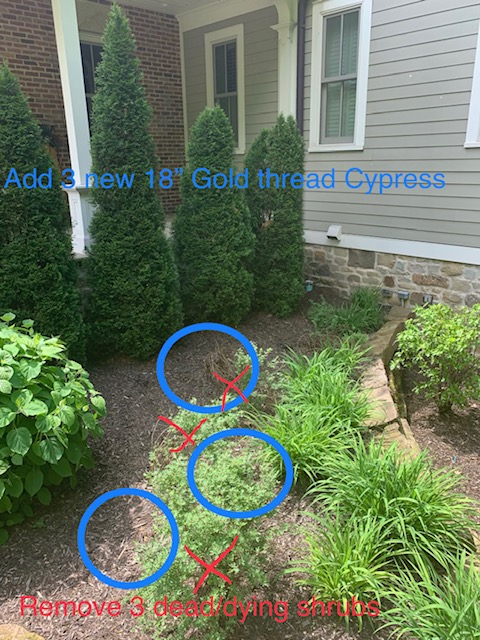 3 Reasons to Have a Patio Installed This Summer

6/10/19
Steve Fuller, CLT, Construction Supervisor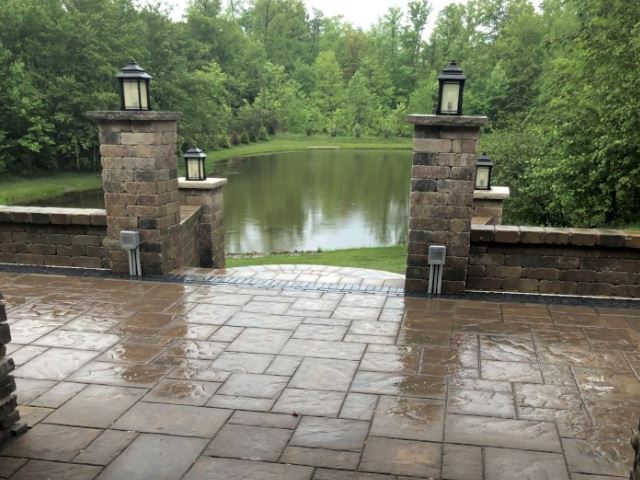 Turn your back yard into something special or breathe life back into an existing patio. At H&M Landscaping we have an experienced design team with keen eyes for innovation to help with something special, such as pavers, natural stone or stamped concrete built in any shape or size and designed to your specifications.

1. Living Space: Additional living space can open up more opportunities to host virtually any event for family parties or a simple get-together such as a barbeque with friends. Your guests will love the fact they will be able to enjoy the nice weather from your patio.

2. Design Statement: Offering any shape, size and design, a patio gives you the opportunity to design your own unique space. H&M can help you build your patio anywhere you would like to highlight landscaping, add privacy or most importantly, to make a certain area of your outdoor space more accessible.

3. Increase the Value of Your Home: The addition of an outdoor living space is an easy and affordable way to increase your home's value. Plus, if you were ever to sell it in the future, buyers will love the fact that that there is customized outdoor living space and might be willing to pay more for your house.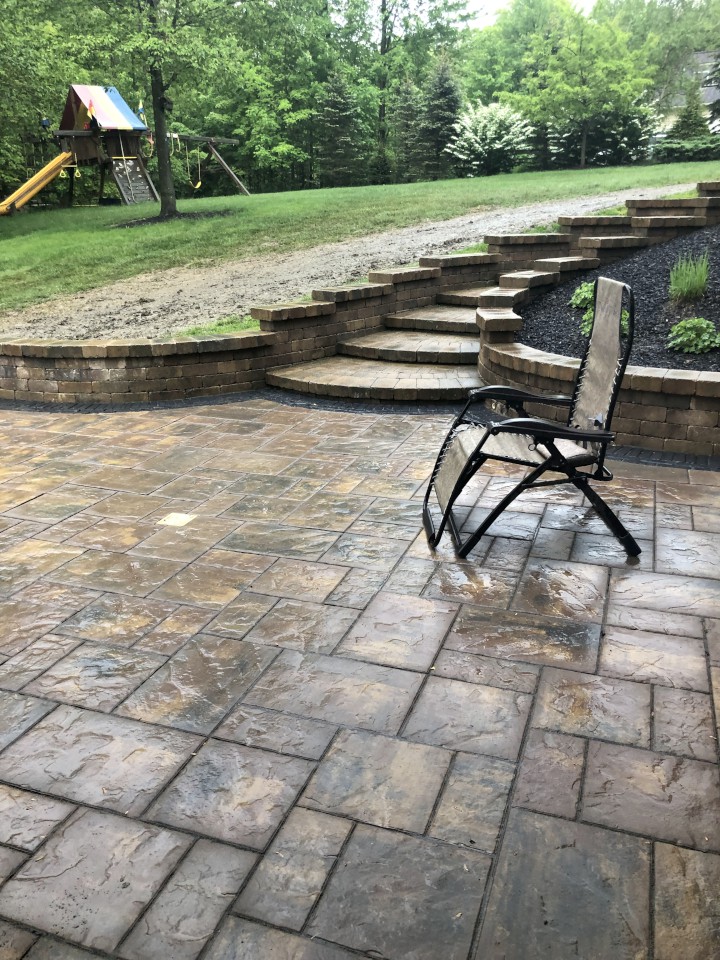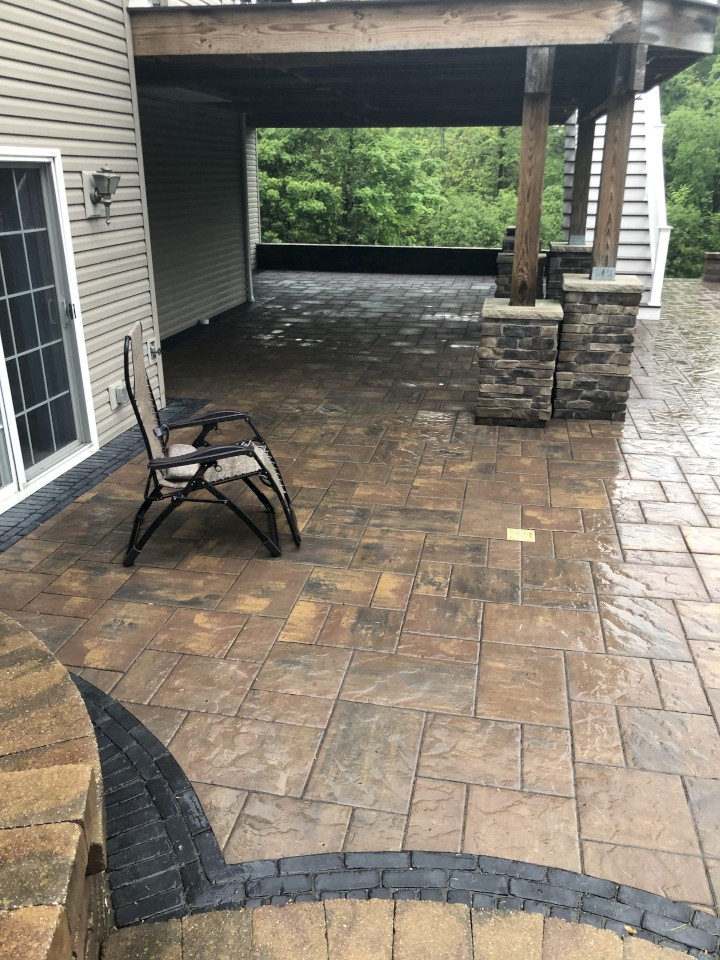 H&M Landscaping Designs & Installs Outdoor Lighting

6/3/19
Craig Kachline, Production Manager

Here is an example of optional night lighting which can be added to existing landscaping or installed with a new landscape design for renovation or new construction. We are using Kichler lighting in the video and we can install lighting to enhance the beauty of your home, light up trees or guide you through a driveway. When thinking about upgrading your home lighting for beauty and safety: think H&M Landscaping. Call today for a consultation or to request literature and tell them Craig sent you!



Northeast Ohio Growing Degree Days - Nature's Thermostat

5/27/19
Jerry Wilthew, Maintenance Supervisor

"Growing Degree Days:  Growing Degree Days are a measurement of the growth and development of plants and insects during the growing season. Development does not occur at this time unless the temperature is above a minimum threshold value (base temperature). The base temperature varies for different organisms."

Multiple organizations track these, but Michigan State University and Ohio State University are two standouts in this area. Total number of days will give you estimates on how and when to apply controls for certain pests. According to both models, the crabgrass pre-emergent control has come and gone. Both show we are in the middle of prime time for post-emergent broadleaf weed control. With Black Turfgrass Ataenius (BTA), an insect problem for annual Bluegrass, prime time is just around the corner for control measures.

What did we do years ago before people smarter than me figured out this model? We watched nature. If you do not have a model or choose not to browse the web, when the Forsythia starts to bloom, it is time for crabgrass control to go down. As the blooms drop and the leaves emerge, you are past the time for pre-emergent control. Bridal Veil Spirea in full bloom is a great indicator for control for the BTA insect. Every year is not the same. How many times do we say that things are early or late this year? A specific hard date is never the answer. Watch nature…it will never lie to you.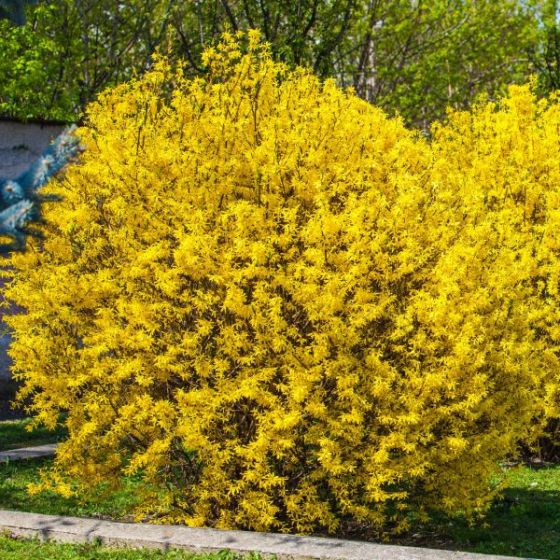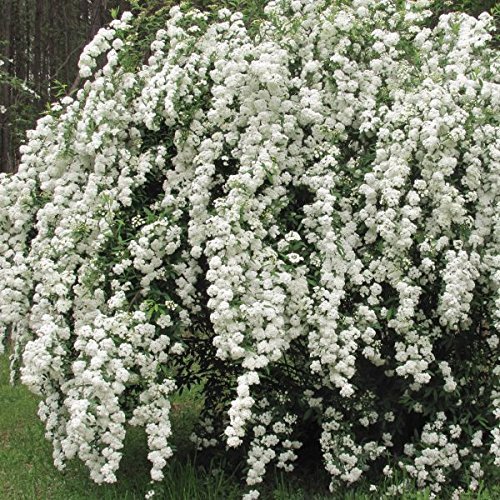 H&M Landscaping: Affordable Outdoor Living Space

5/20/19
Will Girtz, CLT, Construction Supervisor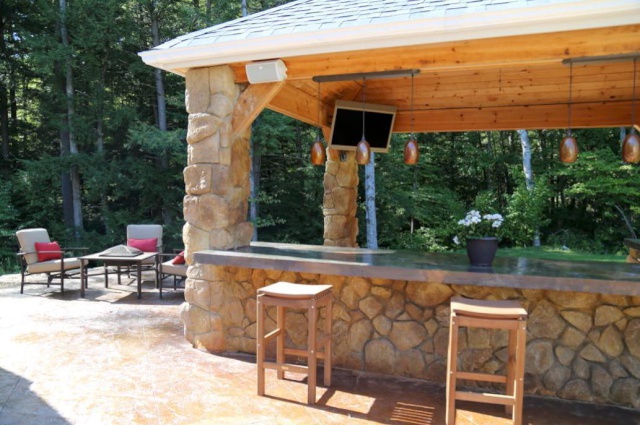 If you are reading this, it means you made it through another Ohio winter. Now is the time to treat yourself to an outdoor living space. Maybe a new grill island to entertain friends and family, or possibly a water feature to soothe you on a warm spring night. You don't think you can afford it? Think again! This year we are introducing a new item to our already amazing line of products called ClifRock®. ClifRock® is a very affordable way for you to obtain the back yard you have always wanted. Outdoor living spaces, water features and fire features can take weeks to custom build. With ClifRock®, it can be done in less time than with traditional materials. The product is made of a fiber-reinforced, polymeric concrete panel system. It has superior strength, is freeze/thaw stable, resistant to high temperatures and abrasion resistant. This makes it a great long-lasting investment.

H&M Landscaping is the only installer of ClifRock® in Northeast Ohio. I am here to tell you this product is unbelievable! Go to ClifRock.com and see for yourself! Browse through the many product options and see what catches your eye, then give us a call. One of our designers would love to sit down with you and design the outdoor living space that you have always wanted but thought you could never afford. Book an appointment with us today so you can start enjoying your back yard soon!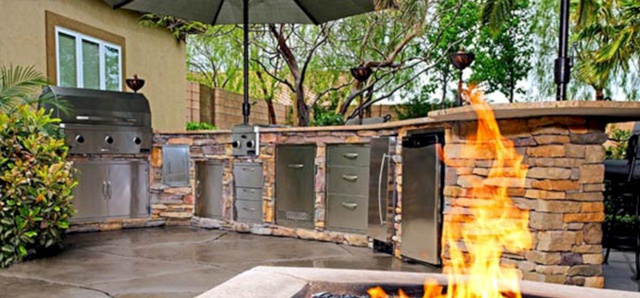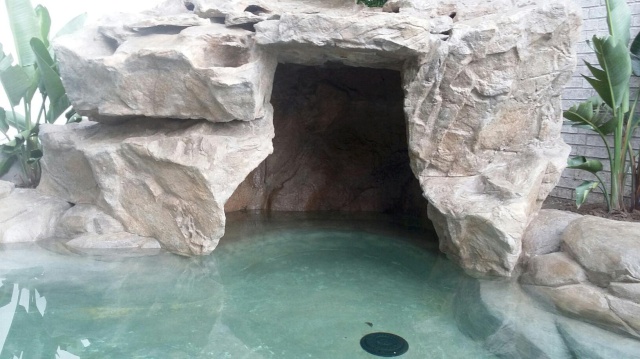 H&M Landscaping: Expert Mulch Installation Services

5/13/19
Dave Knaus, CLT, Maintenance Supervisor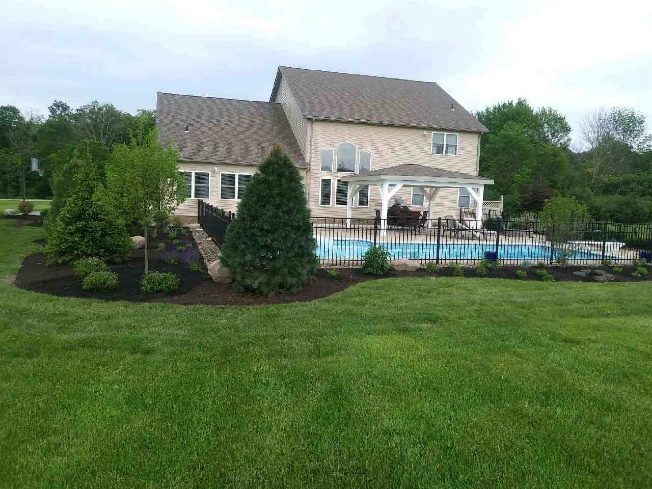 Mulching is one of the best things you can do for your garden. This is the act of placing a protective barrier around your plants and over your bare soil. This protective barrier can be made up of a variety of decomposing organic materials, including bark (from various tree species), pine needles and straw. Here are some of the biggest advantages of mulching:  

• Using mulch, you can limit the number of weeds that spring up in the open spaces of your garden. The mulch acts as a barrier, limiting the amount of sunlight that can find its way to the weeds.

• Organic mulches absorb water. Organic and non-organic varieties both cover the soil and limit evaporation. Retaining moisture (especially during hot, dry seasons) not only helps your plants, but it can also help your water bill.

• Mulch prevents soil erosion by keeping rain water from washing away your soil. It does this by breaking the fall of the water and therefore lessening the force when the water impacts the ground.

• Mulching keeps soil nutrients from being washed away with the rain and also releases nutrients into the soil if you are using an organic material. This happens as the organic material slowly decomposes on top of the soil.

• Mulch can give a garden a finished look by filling in the empty spaces while being one of the easiest fillers to maintain. Grass, groundcovers and other fillers may take extensive care, such as mowing & watering, as well as competing for resources with your garden plants. Mulch is easy to care for and never competes with your other plants.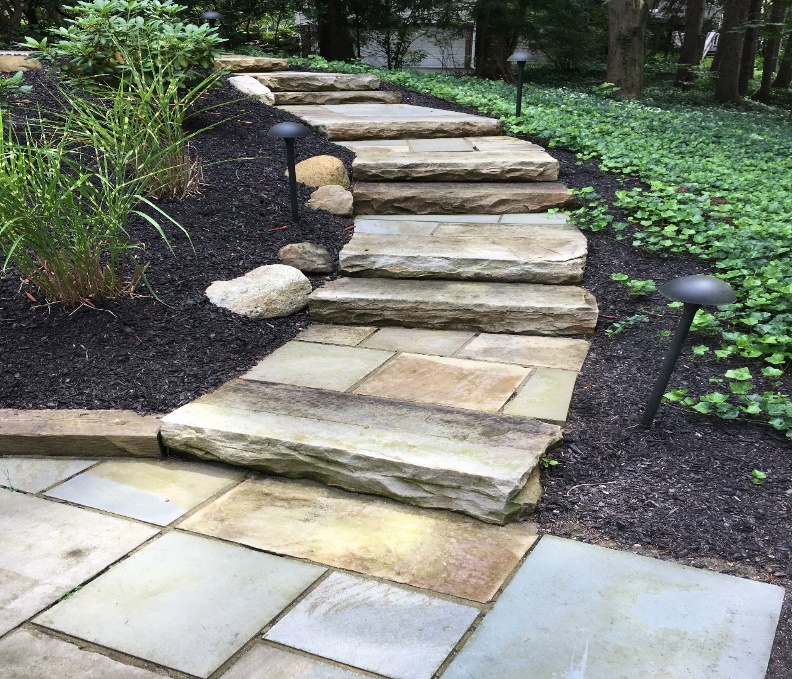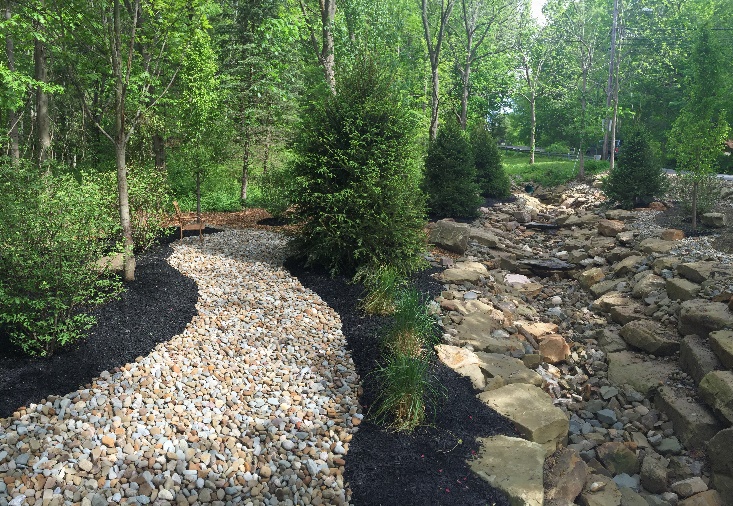 H&M Landscaping Designs & Installs Belgard Paver Patios

5/6/19
Nick Tinik, Maintenance Production Manager

Belgard has 2019 new product introductions they are adding to an already exciting line of products. Durable and weather-resistant, these pavers can be removed and replaced in situations of underground utility repairs or upgrades.

Is it time you consider a beautiful new patio, walkway or driveway design with some of these fabulous, high-quality paving stones? If so, contact one of our design specialists to discuss your project.



Sprinkler System Tune-Up Tips from H&M Landscaping

4/29/19
Ralph Smith, Irrigation/Lighting Supervisor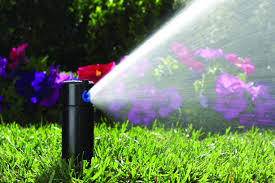 SPRINGTIME SPRINKLER TUNE-UP CHECKLIST
Save Water, Time and Money in Your Yard

As the temperatures warm and the lawn and plants begin to thaw, there is no better time than spring to make sure your automatic sprinkler system is ready for another season of efficient lawn and plant watering. Just a few simple steps will go a long way toward saving water and money and preventing a mid-summer landscape catastrophe at home. Get the warm watering season off to a great start by doing the following:

• Check the backflow
• Turn on the water supply
• Let the main line pressurize with water
• Check for leaks
• Activate each zone and check for leaks
• Adjust each sprinkler
• Clean around each sprinkler to remove all obstructions
• Set each zone for the proper run time
• Set the controller (irrigation clock) for proper start times and days to water
• Check and adjust the rain sensor
• Make a final walkthrough and clean-up

Make an appointment with one of H&M Landscaping's experienced irrigation technicians. There is a little more to do than just turning on the water and hoping for the best. We will give you a brief description of what we call, "the H&M way of best practice." This is also a great time to have us test your low-voltage lighting system for proper setup and perhaps upgrade your bulbs to LED lighting as most of us have done inside our homes. These bulbs are warranted for SIX years, eliminating the cost of changing burnt-out bulbs. Give us a call today to book your appointment, or email Ralph at [email protected] Thank you for your time and Happy Spring!!




H&M Landscaping Installs Unilock Split'NSTACK® Firepits

4/22/19
Dean Cook, Construction Supervisor

Tis the season for a nice, warm fire and what better way to enjoy it but with Unilock's Split'NSTACK® firepit kits. Unilock has provided the landscape industry with many great products but nothing quite as popular as their Split'NSTACK® model.

Unilock's firepit stones come in several different color selections, such as granite, river and sierra. Split'NSTACK® also comes in two different styles: Split'NSTACK® and Roman Stack. Split'NSTACK® is a sharper-edged stone with clean and concise corners. Roman Stack is more of a tumbled block with softened edges and corners. With Unilock's Split'NSTACK® and Roman Stack you can enjoy outdoor fires in a safe and pleasant environment. They are easy to clean and maintain for long-lasting use and enjoyment.

H&M Landscaping can offer our customers fantastic designs incorporating their choice of color of Unilock's Split'NSTACK® and Roman Stack firepits. We are currently installing one at a customer's home along with a 750 square foot patio and overhead arbor structure, designed by Mark Barker.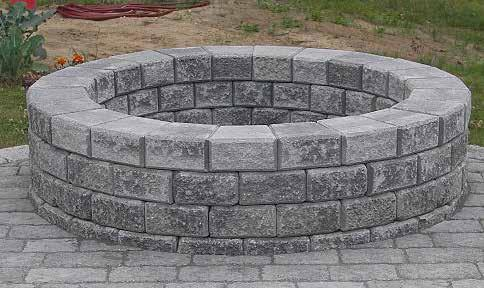 Solon Ohio Outdoor Living Space & Bar Island Install

4/15/19
Steve Petersen, Senior Construction Supervisor

We are finally back in full swing and getting projects underway. One of our latest undertakings is a custom outdoor bar and living space in Solon, Ohio.

For this project, the customer chose Sheffield Blend Versa-Lok for the kitchen and bar, accenting it with a granite countertop. The appliances used are from the Summerset line (TRLD38" grill, TRLSSB side burner, SSRFR 4.5 cubic in refrigerator, one set of double access doors and one SSDR stainless steel triple drawer).

The patio stone is full-range Thermal Bluestone accented with a soldier course of charcoal Holland Stone by Belgard. If you are considering a project at your home, please contact us as soon as possible for a free estimate and to get your landscaping project booked on this year's schedule.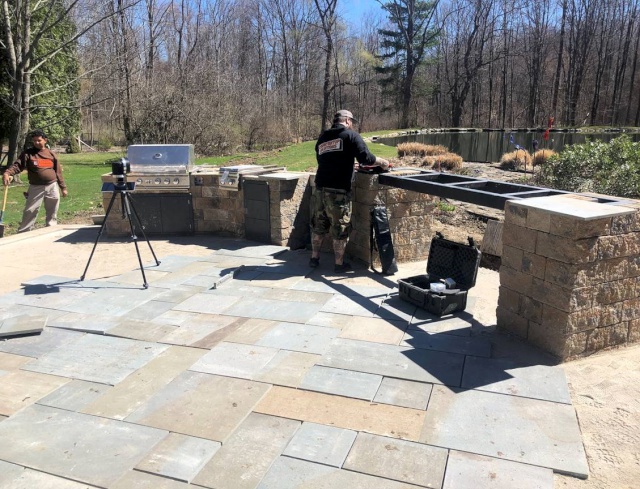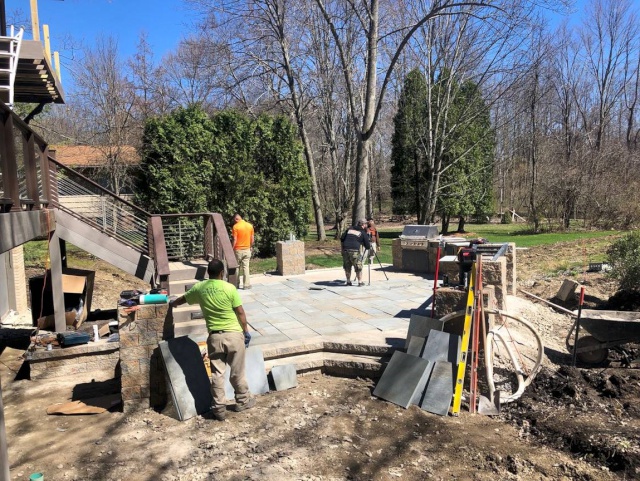 Landscape Design: Healing and Wellness Gardens

4/8/19
William Keach, Senior Designer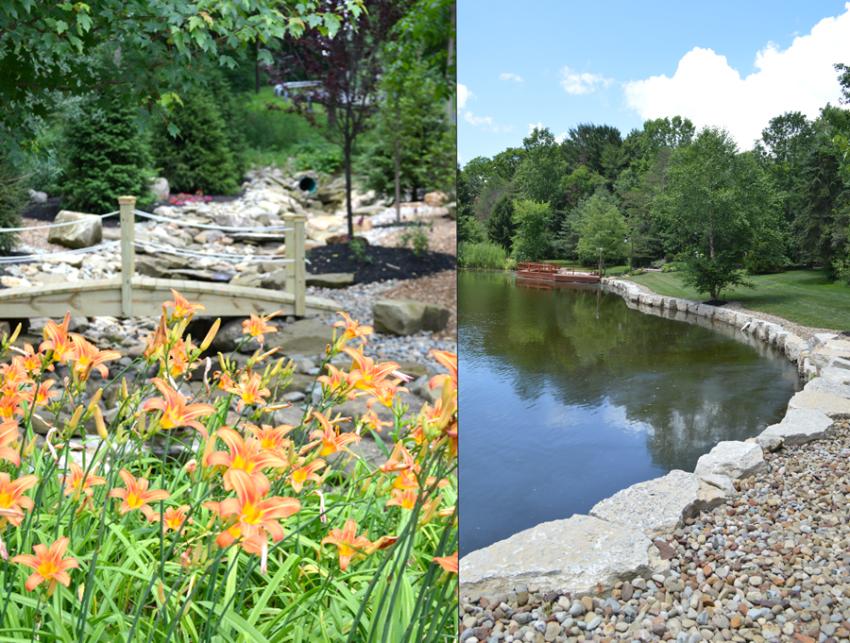 The healthcare profession in the past few decades has begun to see the light when it comes to a holistic approach to health. It is commonplace now for hospitals to include wellness gardens and contemplative gardens in their site designs. The same opportunities are available to the home owner. The goals and design ideas are the same:

• Planting trees and shrubs that attract everything from hummingbirds to butterflies are a good place to start.

• The sound of quietly running water has been considered a soothing way to relieve stress going back at least to the Persians.

• Fragrant flowers and shrubs contribute another positive sensory experience to the backyard wellness garden.

Ask your H&M professional designer for help making your garden a place of healing and relaxation. He or she will have a host of healthful ideas.




The Wake of Spring Brings Clean-Up Challenges

4/1/19
Eddie Murillo, CLT, Maintenance Supervisor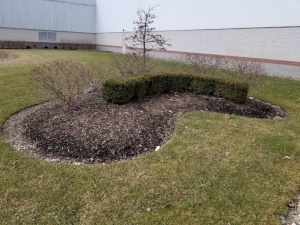 The first week of spring is always so exciting as it welcomes the feeling of a new year all over again! Perennials are barely poking through and breaking that hard, crusty layer of soil that winter leaves behind as it begins to thaw. You can feel the temperatures warming up and it encourages you to get out and resume outdoor activities. You will quickly realize the mess winter left behind!  Our enhancement crews have been busy here at H&M Landscaping performing our spring clean-ups. Our services include: leaf clean-up with state-of-the-art blowing equipment and manual removal of branches, sticks and all other winter debris. We do a complete cleanup of your beds and lawn areas including all hard surfaces.   

Once all beds, hard surfaces and yard areas have been completed, the crew will begin to remove old grasses and remaining perennials along with performing shrub trimming with power shears and hand pruners will be used on all shrubs and trees requiring service. All beds and tree rings are deep edged mechanically and manually with a bed edger and edging spades. This will prepare all bed areas and tree rings to be mulched.   

Please give us a call for a free landscape consultation that best fits your needs. Services range from a one-time enhancement to a fully-inclusive maintenance program. Let us take care of your landscape needs! Spring clean-up not only helps you achieve great curb appeal, it gives you peace of mind and allows you to enjoy that beautiful landscape.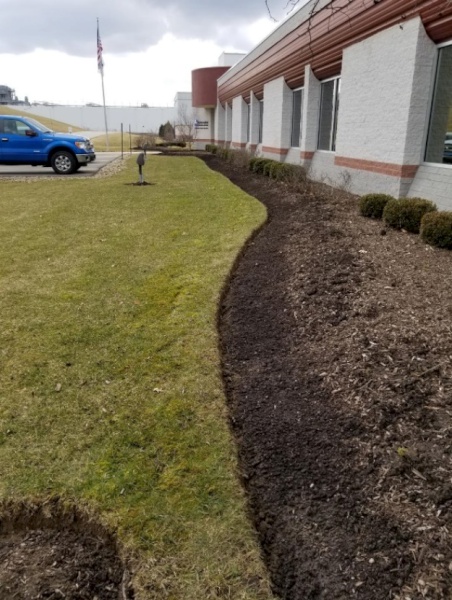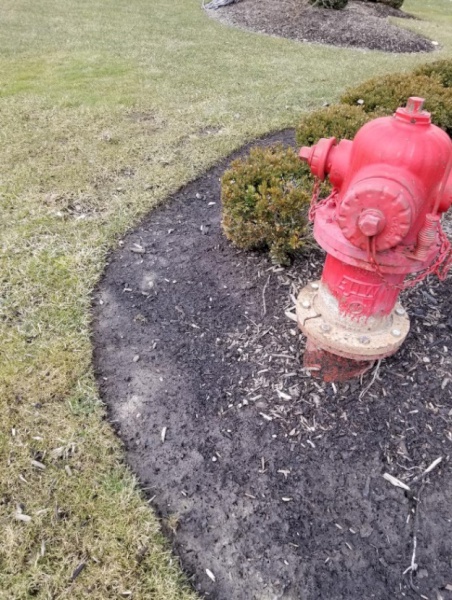 Landscaping with Ornamental Grasses for Privacy

3/25/19
Bobby Lester, CLT, Business Development

Ornamental grasses are used in many landscape applications, but a lot of homeowners may not think of using them as a privacy fence. Most of the time your common evergreens are used for this purpose. They do work well, but several grasses can be great alternatives and take up less space.

Let's say you live in a typical neighborhood where the houses are close together. You have a patio off the back of your home that you love to use regularly. Your neighbor seems to always be out on his patio every time you want to be on yours. You have a flowerbed along the patio between the two of you, but it is only a couple of feet wide. You think to yourself, "What can I plant in that narrow of a space to screen out my neighbor?" You run through a list of Spruce, Arborvitae, Pines and Junipers, but they either get too big, grow too slow or are too prickly. Then you think, "I'll just use some grasses!" You clan keep them tall in the winter to see their winter beauty and then cut them in early spring.

So, if you are imagining how you could use some grasses in your yard, give H&M Landscaping a call. One of our sales staff would love to discuss the best options for your property.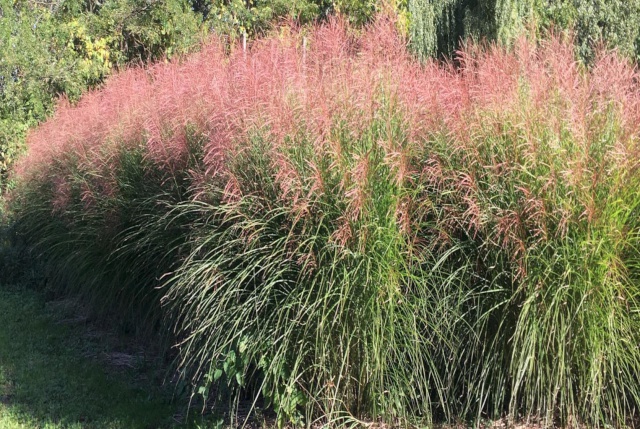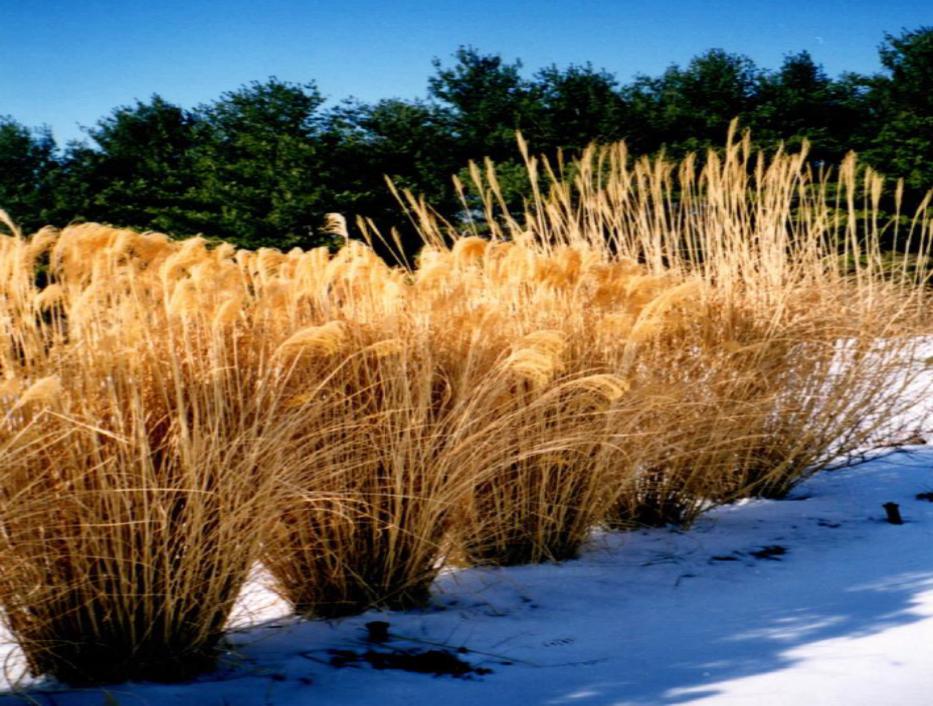 Landscape Ground Covers - An Alternative to Mulch

3/18/19
Jerry Wilthew, Maintenance Account Manager

Spring, we hope, is not too far down the road. As you think about ways to dress up your mulched/bed areas, you might consider ground covers instead. They can be very attractive and have two good attributes: weed control and erosion control.

Maybe there is an area that always gets overrun by weeds. A thick cover keeps the area shaded and is very effective in keeping out unwanted species. You may have to be patient in getting that cover thick, but it could be well worth it. English Ivy would be one choice for rapid establishment; however, you need to keep it in check as it could overtake beds, trees and lawns. Severely sloped areas can be fortified with a creeping Juniper variety (see picture in the break wall). Again, patience is needed for total coverage which is helpful for keeping stone or bed material in place. Pachysandra or Myrtle (Periwinkle) are two slower-spreading varieties that could be used as part of your plans in any bedding area. You don't have to fill in entire beds, just use the ground cover as part of your planning scheme.

You are the artist in your back yard. Look to alternatives to the normal and make your living space special.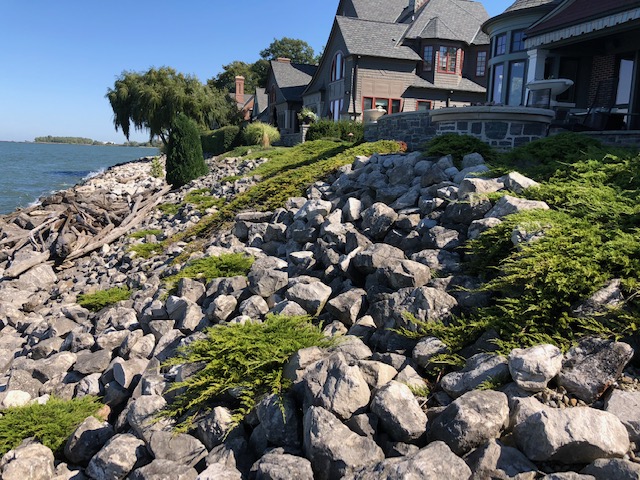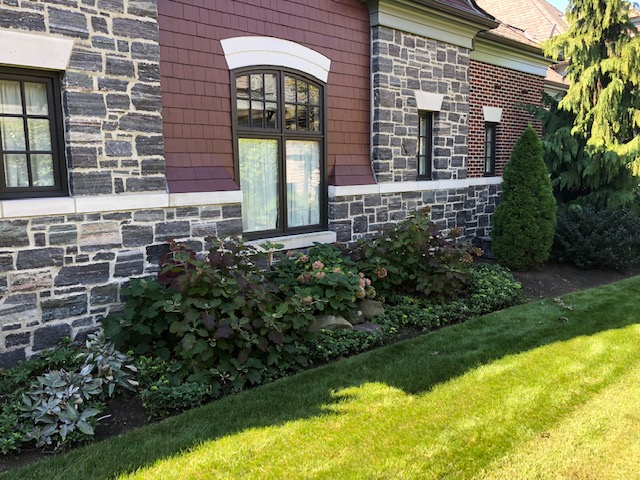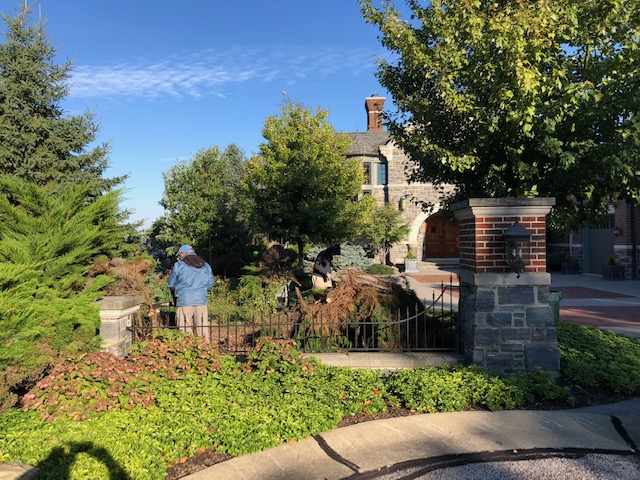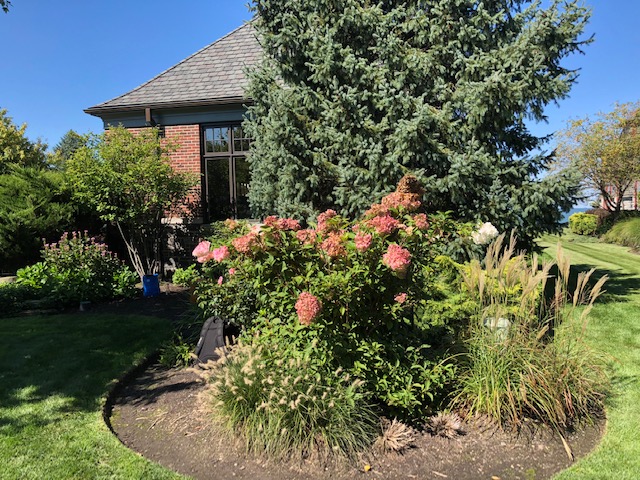 Patio Renovation: Outdoor Pizza Oven Add-On

3/11/19
Kevin McCausland, CLT, Construction Supervisor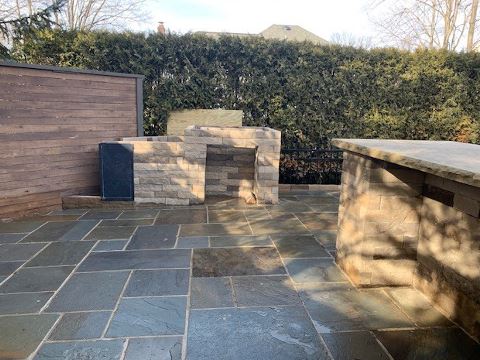 H&M is currently working on a project where we are adding a small pizza oven bar to the backyard living space. The customer chose Belgard block as well as a Belgard countertop-model pizza oven. This is a work in progress, and I felt compelled to share this with you to show that H&M never stops working. We are plowing by night when needed and installing hardscape projects during the day. This small amount of work was only two days so far and will require only one additional day to complete when the special-order material comes in. This type of efficiency can help to make a project you are thinking of more cost effective. Call us today for your free estimate and design!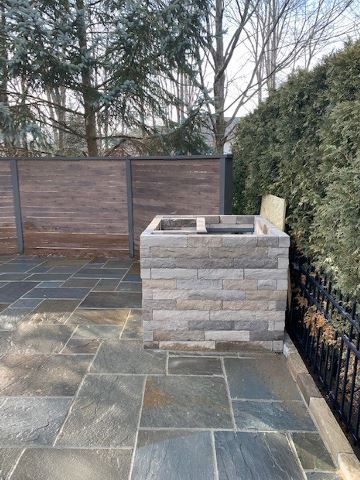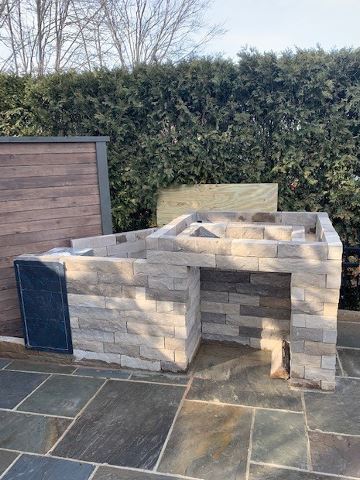 Chardon Ohio Patio Restoration & Outdoor Kitchen

3/4/19
Brian Franko, CLT, Construction Supervisor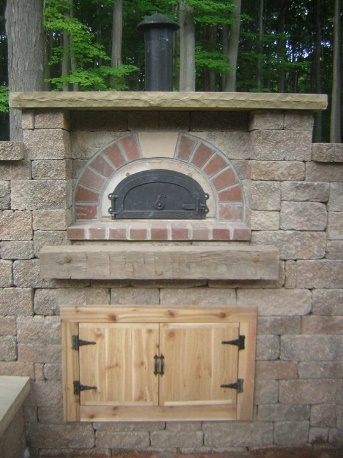 A customer in Chardon decided they wanted a new backyard to entertain in. So, if you're going to do it, you might as well go all the way! This customer decided on a custom-made fireplace with their very own pizza oven. The structures, as well as the surrounding retaining walls and steps are made of Versa-Lok block. The customer had an outdated patio made of old red road bricks. After removing the material, cleaning, then palletizing it, we were able to reuse the material in their new outdoor living space. Counter tops are 2-1/2 inch buff sandstone and of course, the entire patio is locked in with Polybind Polymeric Sand.

Call H&M today for a free estimate to design and install your new outdoor living space.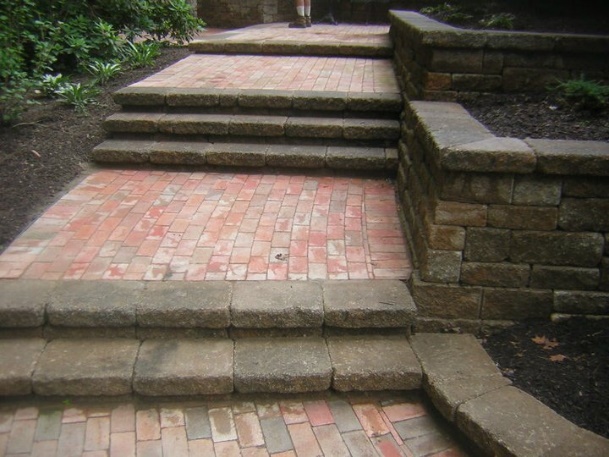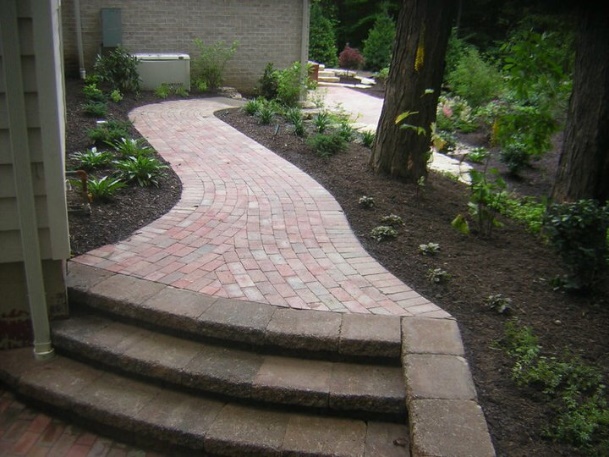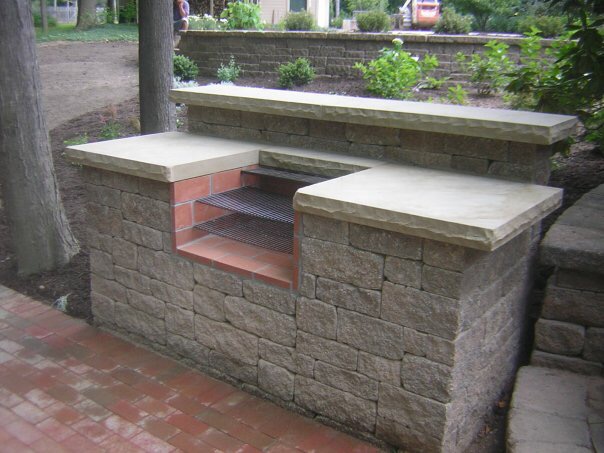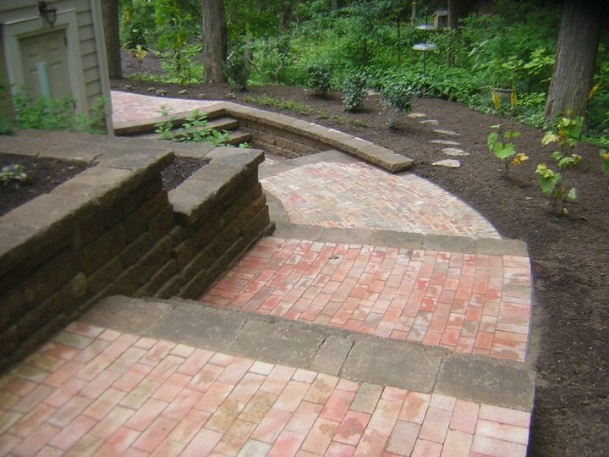 Patio Installation to Kick off the Season

2/25/19
Steve Fuller, CLT, Construction Supervisor

Spring is almost here, and H&M Landscaping is getting ready for our season to kick off. There is no better way to start the season than with a new spring patio installation or renovation. Our crews are experts and we love installing paver patios.  We believe patios add a lot of character to your outdoor space and provide convenience and versatility to your property. A paver patio installation can offer much needed space for entertaining.  You'll enjoy relaxing on comfortable outdoor furniture and will love a built-in grill, fire pit or water feature.  Improve your quality of life by adding additional living space and increase the resale value of your home as well.

We pay special attention to installation details when it comes to paver patios. Your design options are endless with H&M Landscaping's designers.  You can have your choice of borders, color scheme and even paver rugs to blend or contrast with your home to enhance its visual appearance.  If you know exactly what you are looking for or you need some help with the design, that's what we are here for, to help turn that dream into a reality.  Call us today to schedule a free consultation and get your new project off the ground.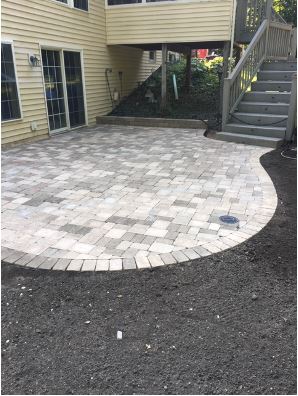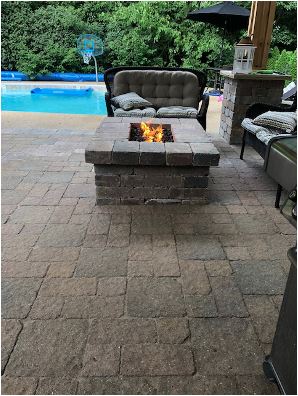 Design a New Outdoor Kitchen with ClifRock

2/18/19
Craig Kachline, Construction Production Manager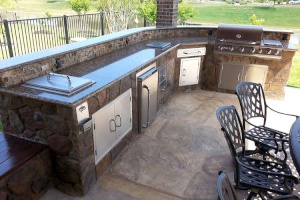 Start planning your new outdoor kitchen now with our newest product from ClifRock. This product allows us to create unlimited layouts and designs. H&M Landscaping can design and build your outdoor dream kitchen to include your favorite BBQ and cooking appliances from our line of featured Summerset products or a special product of your choice. Whether you are looking for cabinets/storage, grills, icemakers, griddles, trash receptacles, paper towel holders, refrigerators, freezers, drawers or a pizza oven, we can design and install whatever outdoor features suit your needs.

ClifRock is an engineered stone panel that has a much lighter footprint than most other products. It is engineered to be weather resistant with a 9000 psi pressure rating and you can choose from many patterns and colors. ClifRock can be installed much faster than traditional methods as well, so you can enjoy your new outdoor kitchen sooner.

Call H&M Landscaping today to set up an appointment so your new outdoor kitchen is ready for summer 2019 or sooner!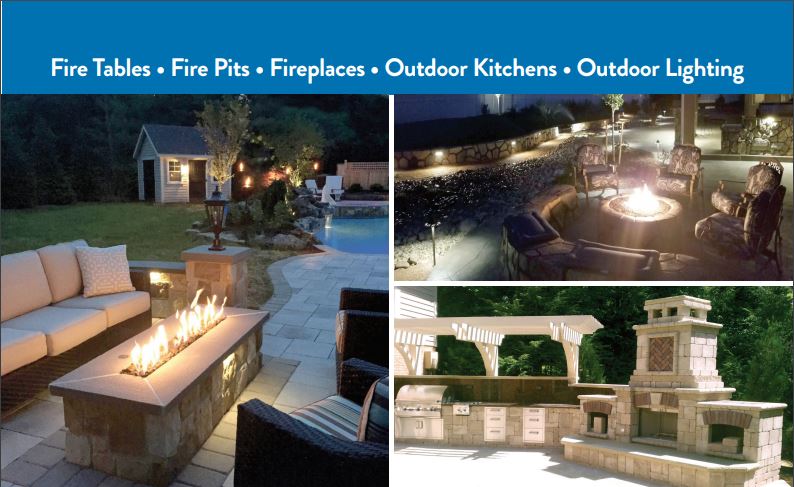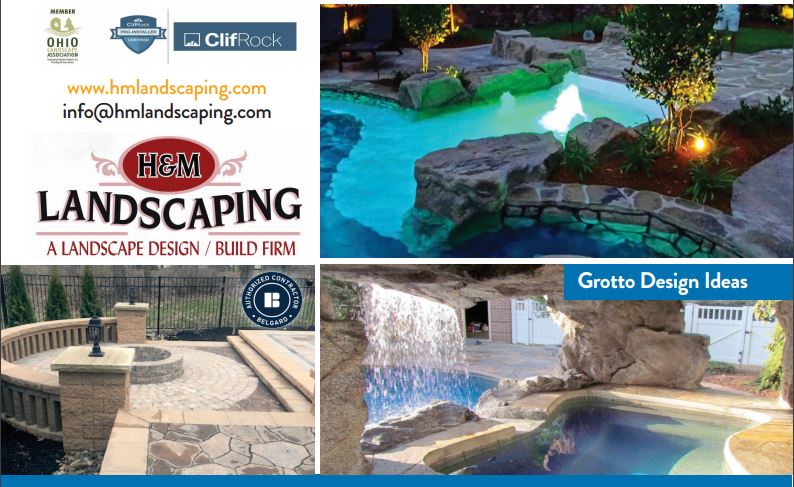 H&M Landscaping Installs Extra Mosquito Protection

2/11/19
Ralph Smith, Irrigation/Lighting Supervisor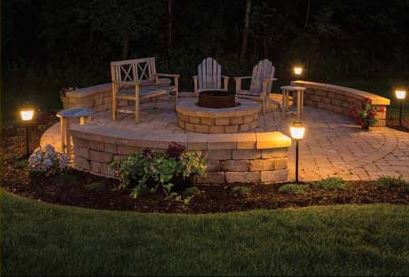 Homeowners looking to maximize comfort in an outdoor living space can't ignore mosquitos.  NuTone Manufacturing introduced the HAVEN Repellent System a couple of years ago.  It's a 12V fixture that resembles a path light and can be connected directly to a low voltage lighting transformer.  Each Haven fixture emits a vapor of metofluthrin – the same mosquito repellant that's in the OFF ™ Clip-On.  It can be used day or night (since different species of mosquitos are active at different times).  By simply installing them every 10 feet around a patio or deck, you can repel these pesky mosquitos once and for all.

The easiest system offered is a dedicated 150W IT Transformer with Bluetooth which can hold up to 12 fixtures. You don't even have to get up to turn it on: simply load the App to your smart phone or iPad, set it up on a timer or turn it on/off manually. It's best to turn on the system about 15 minutes before going outside so the metofluthrin can activate, vaporize the area and force the mosquitos out of the living space.

H&M Landscaping is a complete in-house design/build firm offering a full range of services including spring clean-ups, irrigation maintenance installs, maintenance and upgrades to your existing systems, low voltage LED lighting, hardscapes, softscape plantings, water features, carpentry, electrical, drainage, fertilization, full design services and complete lawn maintenance packages. Give H&M a call today- as it's never too early to discuss your spring landscape needs and dreams!




Are You Ready for the Winter Season?

2/4/19
Shaun Price, CLM, Maintenance Account Manager

The winter season is upon us again and that is something you should always be prepared for. To some that may mean your Yeti Rambler Cup is ready to go for a fill up from the local Starbucks but here at H&M Snow Pros that means preparing for snow removal. This starts long before the snow is in any forecast with commercial contracts being signed, materials on order and enough manpower lined up. We can take care of sidewalks and small lots all the way up to large retail and dining sites.

We make safety and training a priority when instructing our team members how to perform on your properties. This covers proper clothing all the way up to running their favorite Ford, Chevy or RAM truck with the latest Western snow plows.

Area managers put together routes with the suitable number of team members to make sure your property is serviced in the most efficient manner possible. This involves long call lists with lengthy communication and mapping to make everything run as smooth as possible.

There is a lot that goes on behind the scenes with snow removal; we make sure you don't have anything to worry about when the snow flies. We know you have a lot of options for your snow removal needs and we appreciate your business. Taking care of our customers is something we take great pride in throughout every season.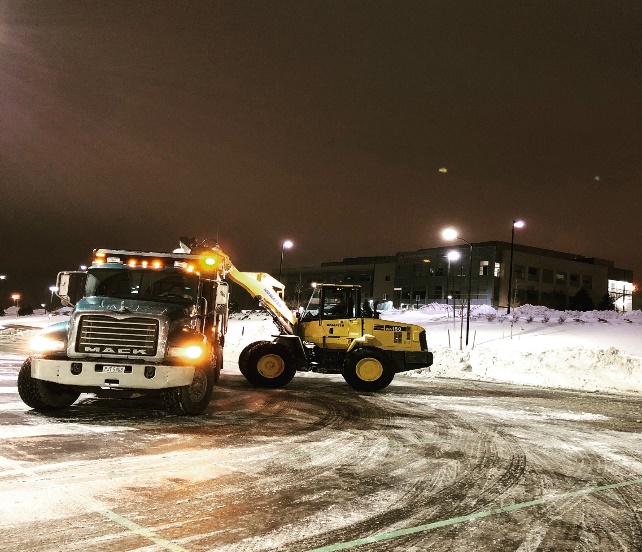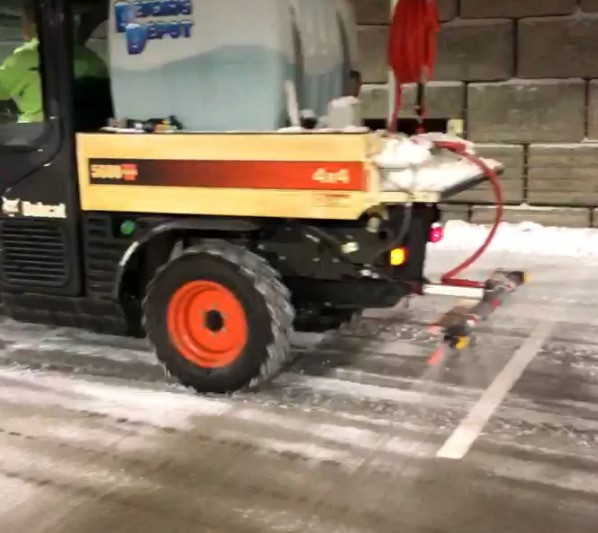 Save H2B Landscaping Jobs: #SaveH2B

1/28/19
Nick Tinik, Maintenance Production Manager


With spring fast approaching and the need for seasonal workers never greater, the fear that looms over the H-2B Program has never been worse. There have been over 100,000 requests for workers and with only 33,000 visas to assign and there needs to be a permanent solution to the "Return Worker Exemption". There is bi-partisan legislation that has been started and signed by 130 members of the U.S. House and Senate. Every H-2B visa sustains 4.6 full-time American workers.

Please assist employers who provide services for which we don't have enough American workers by sending your appropriate representative an email showing support of the H2-B Visa Program. #SaveH2B




H&M Landscaping: Plant Installations for Privacy

1/21/18
Steve Petersen, Construction Supervisor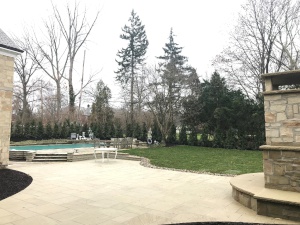 Even though fall has come and gone, we are experiencing a somewhat mild winter and are still able to do plant installations. In the last few weeks we have installed two different types of privacy tree designs.

The first is a mix of White Pines and Norway Spruces incorporated into an area that had existing trees but not providing much privacy. This type privacy planting is one that is designed to draw your eye to it instead of looking past it.

Another project used a soldier course of Western Arborvitaes to create a privacy wall. These are fast growing and will not die or brown out if they contact each other. This is a more direct approach and well suited for small city yards. This design will create a natural fence that can be trimmed to any height to a maximum of around 30 feet.





Help Save Cleveland Area H2B Landscaping Jobs

1/14/19
Bobby Lester, CLT, Business Development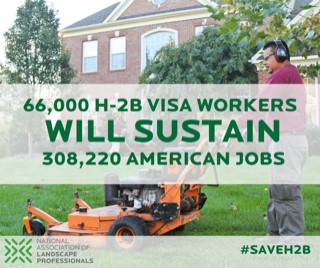 As our political landscape is continually in a state of flux, one thing most Americans agree on and approve of is our H2-A and H2-B Programs.  These programs allow non-immigrants into our borders for a set amount of time (usually 10 months) primarily as Nursery and Landscape laborers. However, some other labor-intensive fields also need these temporary workers who return to their home country each year.  The laws protect US Citizens by controlling who is allowed in and the employers are responsible to keep them working for the duration of time agreed to.  Only workers who have proof they are in this country for work and for no other reason are allowed back.  We need these workers to provide services from Nursery to Landscaping and even for Hotel Cleaning and more.  These programs have protected U.S. citizens and provided services for reputable businesses since their inception in 2016.

Please assist employers who provide services for which we don't have enough American workers by sending your appropriate representative an email showing support of the H2-B Visa Program. Doing this will only take a minute but will have a HUGH impact! 66,000 H2-B visas will sustain 308,220 full-time American jobs!




Commercial Snowplowing Services for your Cleveland Facility

1/7/19
Larry Koon, Maintenance Account Manager

Managing inclement weather across Northeast Ohio can be daunting, especially with the liability associated with snow and ice. Every facility has different needs and we understand there is not a one-size approach to snow and ice management. Our team will work with you to simplify your snow removal needs to remove the burden of managing multiple snow and ice removal companies across Cleveland and Northeast Ohio. We will always save you time, and money while providing timely service and a safe environment on the outside of your facility. Our attention to detail on safety and a clean curb appeal stands out above the rest.

Make H&M Landscaping your one phone call for all your commercial snow and ice removal needs.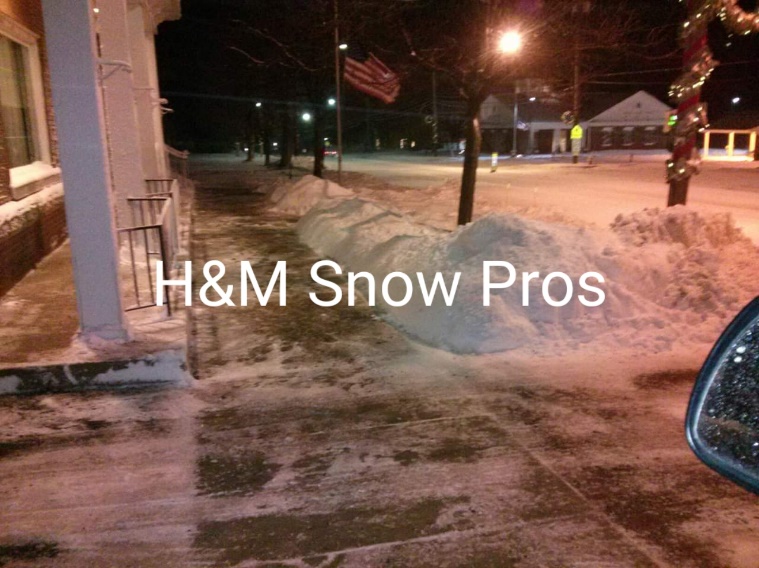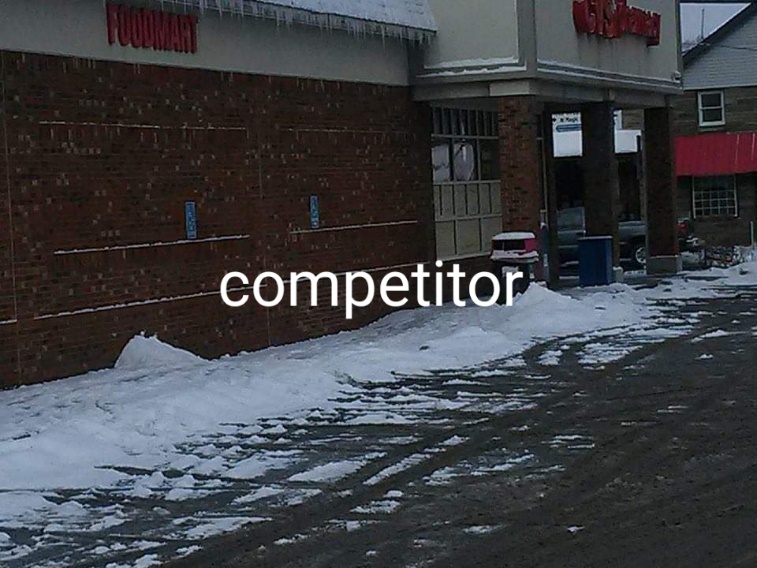 Dormant Winter Pruning for the New Year

12/31/18
Steve Fuller, CLT, Construction Supervisor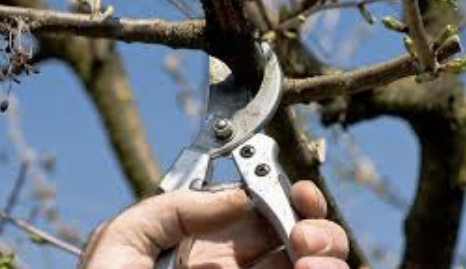 With the new year upon us, January can be the best time for a landscaper to prune your plants and trees. During the winter months, most plants and trees are dormant and there is very little sap and bleeding from a fresh cut.

It is also a great time to see the actual shape of the trees since the leaves are gone. Fruit-bearing, flowering and ornamental trees benefit enormously from winter pruning as it can increase flower production when springtime arrives. White Pines and evergreens should be thinned out at this time as well, as the weight of the snow and ice can bend and snap off limbs.

Please give H&M a call and schedule a trained professional to help with the process of winter pruning on your property. H&M Landscaping values your business and wishes you a Happy New Year!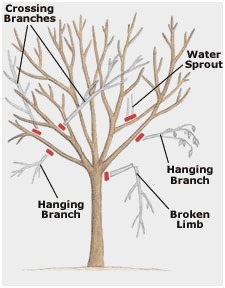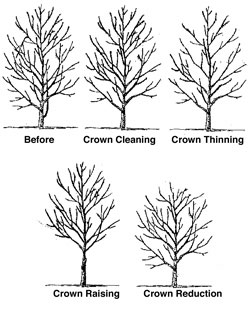 Landscape Carpentry: Matching Cedar Pergola & Deck

12/24/18
Kevin McCausland, CLT, Construction Supervisor

H&M just finished this project for a client in Broadview Heights who had an existing Timbertech composite deck in "Tigerwood" color. The customer was looking for a company skilled enough in carpentry to modify the deck and build a matching pergola above the deck.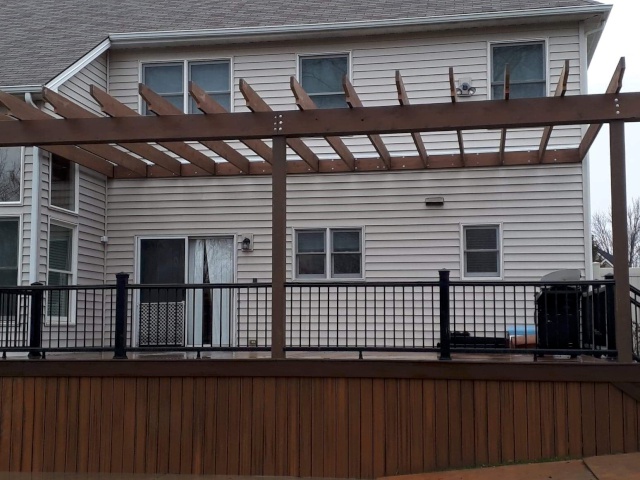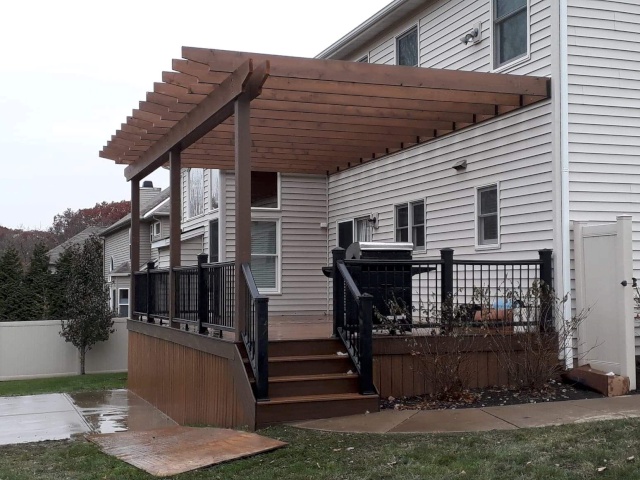 Step one was to dismantle the railing and deck skirting to allow us to dig post holes and install new posts. After the posts were set, we installed the large beam material to support the joists. The third step was to install the ledger board and then hang all of the joists at 16" on center. Finally, we reinstalled the siding, skirting and modified the railing to make it look like the new structure was always there.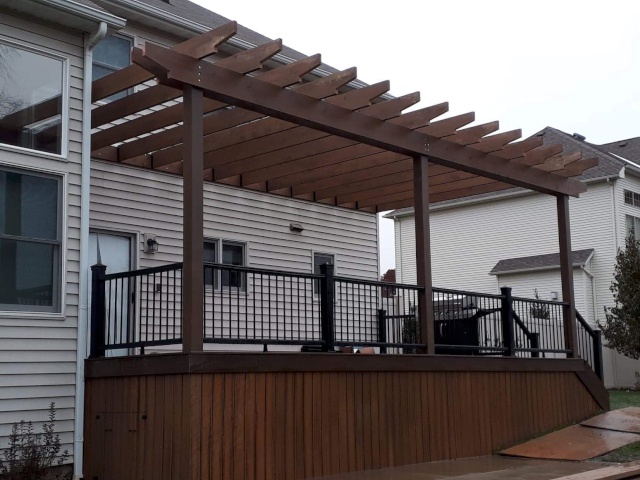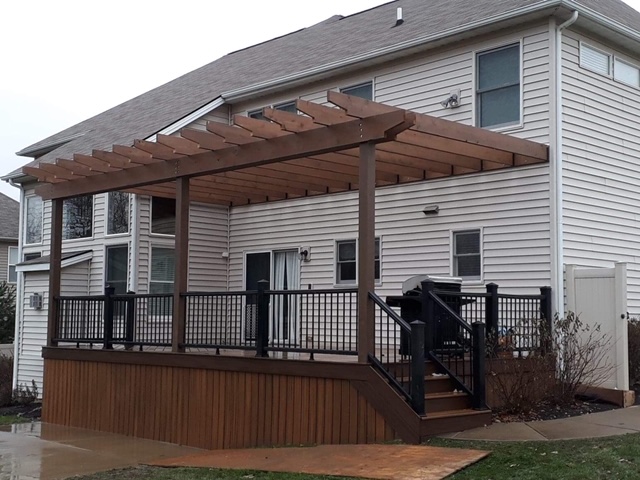 The customer supplied the cedar lumber for the pergola and stained it indoors so that it would have a finished look right away. The choice of cedar, coupled with H&M's professional installation, guaranteed an excellent result that will last a lifetime!




Landscape Enhancements Add Winter Curb Appeal

12/17/18
Jerry Wilthew, Maintenance Account Manager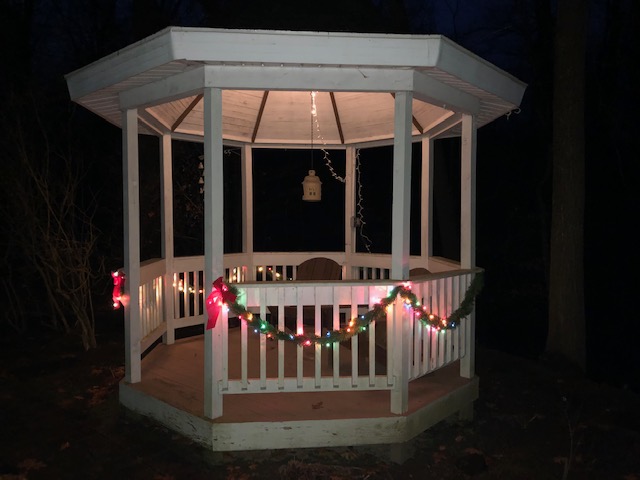 Fall seemed to be nonexistent this season as winter weather has been around since early November. Hopefully, we will see some kind of Indian summer before we go into the deep freeze.

The dark, drab weather can make landscapes seem the same. Have you considered statuary or custom carpentry to soften the look? You may already have a beautifully hardscaped Belgard patio or retaining wall. Consider adding a focal piece to draw the eye. Maybe you have an area in one of the beds that you have always thought could use a little something. Have us customize a piece to fit the location and your needs. Sometimes, just a bit a lighting on what you already have in place can give the warmth and look you need.

Even though the weather may not be the best at the moment, H&M can still help you get the curb appeal that you are after. Give us a call today and we'll work together to spruce up your yard for the winter.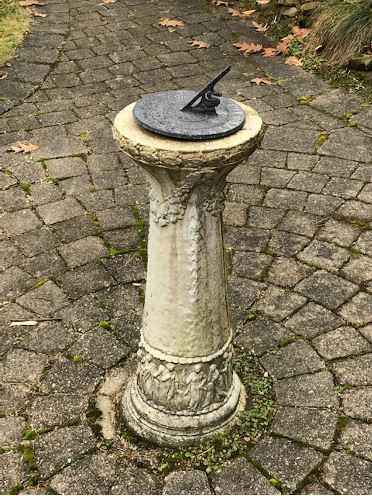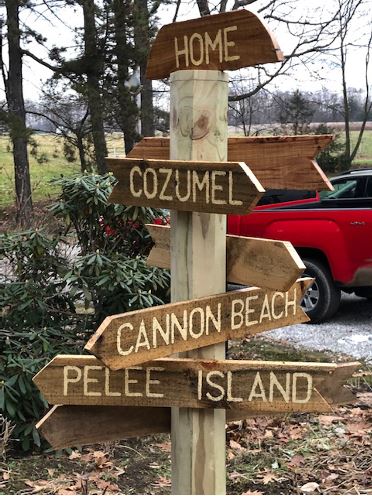 Cleveland Heights Patio Restoration by H&M

12/10/18
Brian Franko, CLT, Construction Supervisor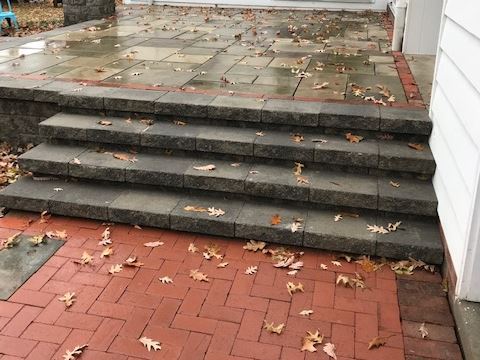 One of our customers in Cleveland Heights decided it was time for a change with their outdoor living space. H&M carefully disassembled the old raised patio and stored the materials on site for use in the new patio design. We then installed Belgard's Versa-Lok® Retaining Wall System in Oxford Gray color to really made this backyard patio space come alive. The Sandstone from the old patio mixed with new clay-cut brick really pulled this living space together. Sandstone accents were added throughout the new clay brick patio helped give this patio the finishing touches it needed. Soon the customer will be adding in Kichler low-voltage lighting throughout the patio and surrounding planting beds.


Call H&M Landscaping today to get the ideas flowing for your new upcoming outdoor living space.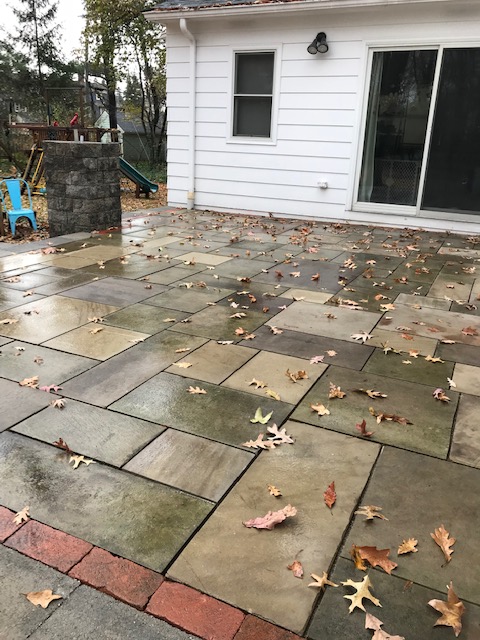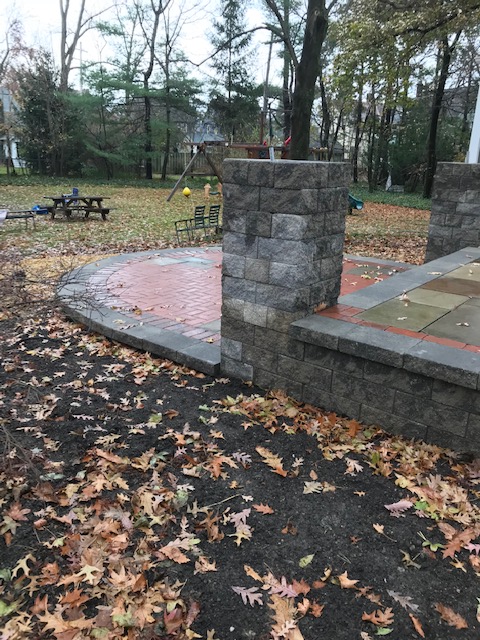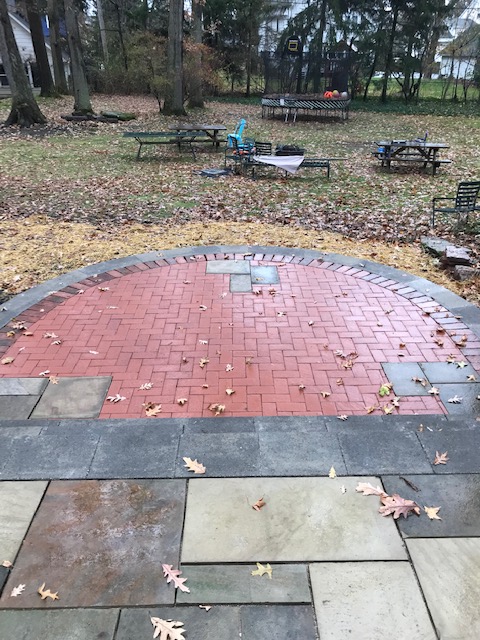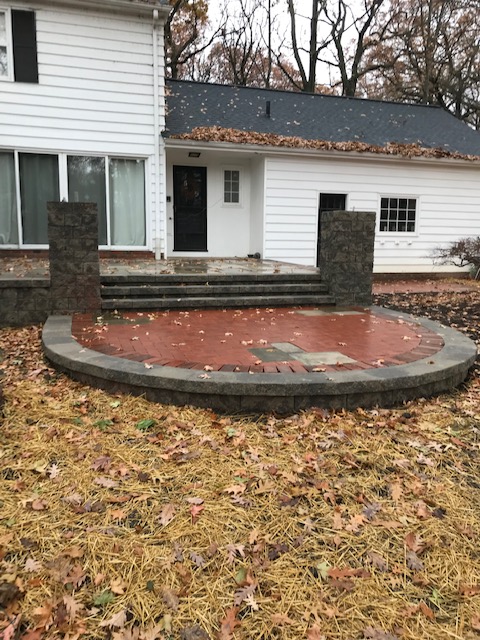 Outdoor Fireplace & Fire Pit Installation

12/3/18
Craig Kachline, Construction Production Manager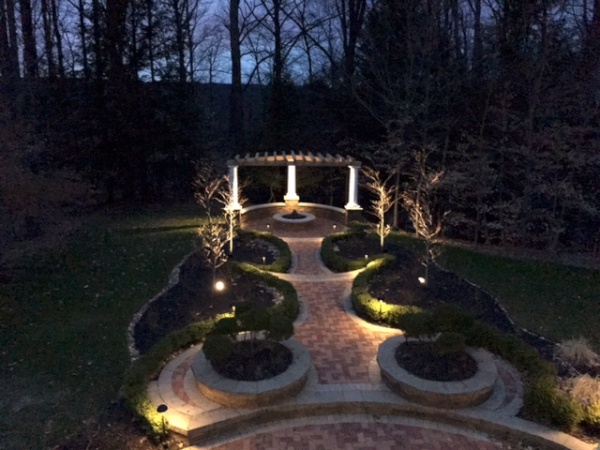 One of the best and most economical upgrades you can make to your outdoor living area is the addition of a fire feature. There are endless options and ideas out there that H&M Landscaping can design and build for you and your family to enjoy for years to come.

You can decide on a simple fire pit for wood burning logs or a natural gas/propane fire pit with beautiful fire glass. You could have an actual outdoor fireplace complete with dry wood storage. Some of my favorites are pictured here in this article. Whether we frame your new fire feature in with a custom pergola or build your new fire pit with small stadium seating to accommodate all your friends and family at once, we can help you design and build a lasting and memorable addition to your outdoor living space. H&M can design and build anything from a simple dry stack fire pit, natural stone or a custom masonry fire pit.

Ask one of our salesmen or design specialists how we can incorporate fire features into your existing landscape or create a whole new outdoor living area from scratch, centered around your new fire feature!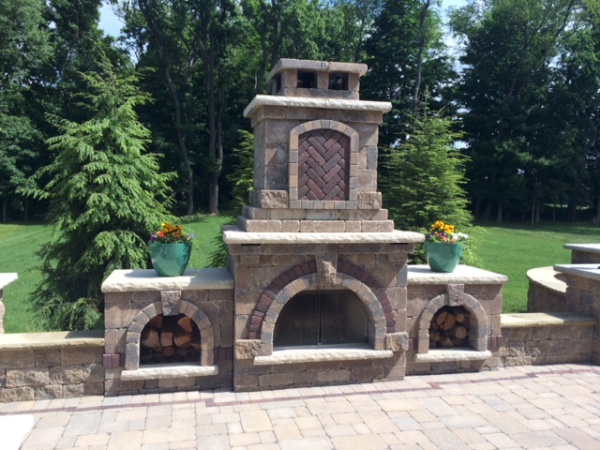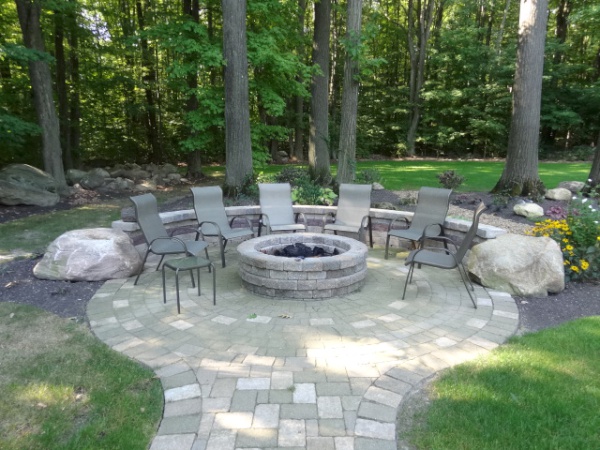 Landscape Renovation: Design & Installation

11/19/18
Nick Tinik, Maintenance Production Manager

Are you considering a facelift for your home? Do you need a privacy screen to feel more sheltered when doing your backyard entertaining? H&M Landscaping can provide both a topographical plan and a photo image, so you can easily see a view similar to how your landscape installation will look.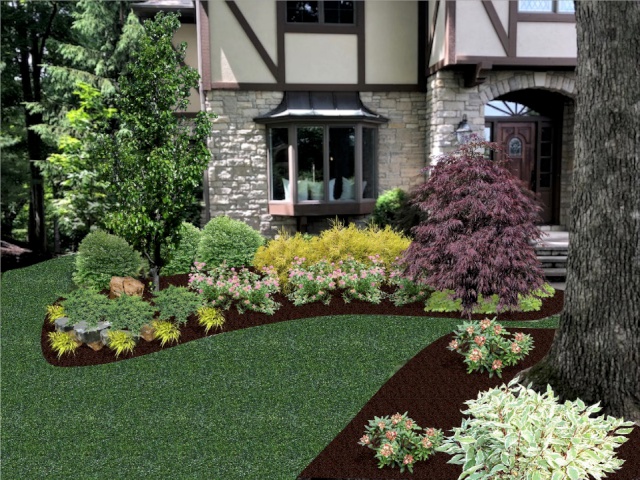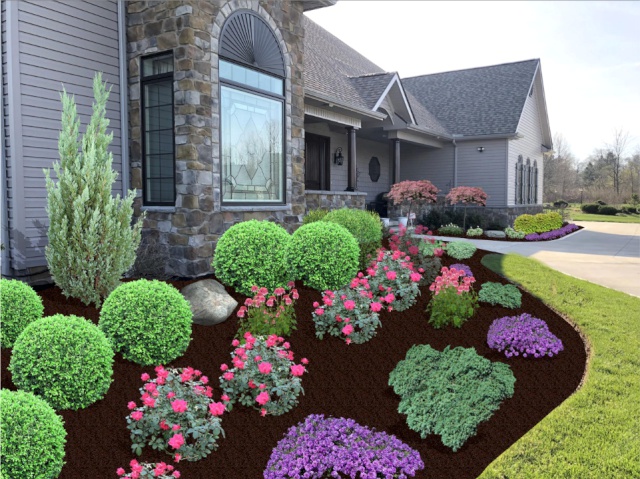 The next few months are the optimal timeframe to speak to a representative to discuss your options and to plan for a nice home improvement that can add value to your home. Call today to speak to a representative who will be happy to assist you with the perfect design for your home.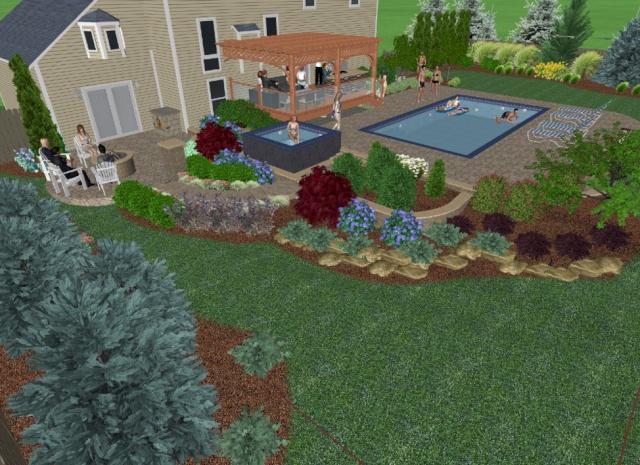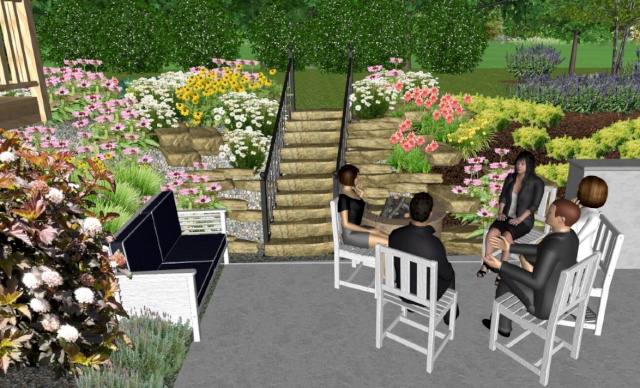 Achillea is a Versatile Landscape Perennial

11/12/18
William Keach, Senior Designer

Achillea (common name – Yarrow) is an often-overlooked perennial in the typical landscape or even in the perennial garden of knowledgeable gardeners. That's a shame because Achillea is a delicate-looking flower that is tougher than it appears. It is named for Achilles; his soldiers applied the plants to their wounds.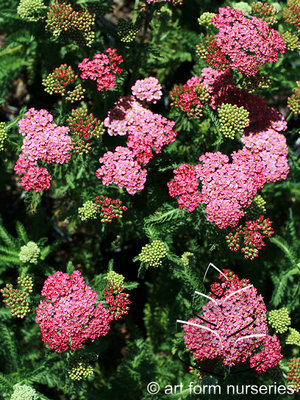 Achilleas are heavy blooming, happy-go-lucky perennials that grow in almost any soil and tolerate heat, drought and wind. They prefer full sun to light shade and butterflies love them. Achilleas flower from mid-summer to mid-fall in soft shades of orange, copper, red, purple, pink, yellow and white. The flowers array in gently arching lids on the top of green stalks. In the center of the flower clusters, many cultivars have a small button of a lighter shade of the flower's color.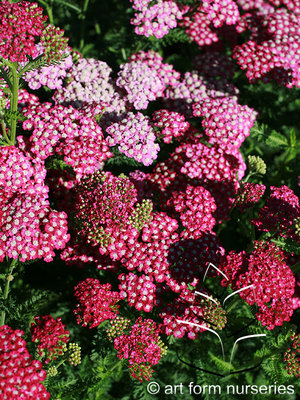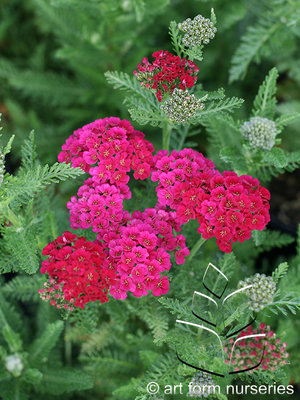 Yarrows grow from six to 60 inches tall. King Edward is a short cultivar that produces masses of light-yellow flowers. Walter Funke, at about 14 inches, blooms red and yellow. Achillea Gold Plate can grow to four or five feet in height. There are many other choices in size and color for the designer to select. Depending on the cultivar, Achillea can be grown in hardiness zones 3 to 10. They spread easily so plant them with room to roam. As cut flowers or dried flowers, Achilleas shine in either setting.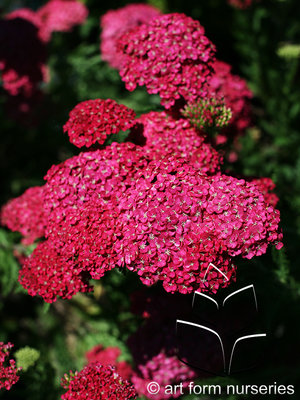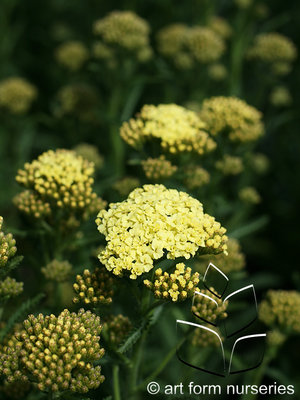 If you're planning a new garden or just adding to an old layout, ask your H&M Landscaping professional to include some Achilleas. As they mature, you'll learn to love this hardy little perennial.




Beautiful Stamped Concrete Patio, Fire Pit & Landscaped Beds

11/5/18
Steve Petersen, Construction Supervisor

H&M Landscaping just had the pleasure of completing a beautiful stamped concrete patio and a new lawn with planting beds on a newly constructed home in Chardon. The first challenge was the steep grade in the backyard, but we were able to excavate the hillside to level it out. Next, we installed a Sheffield blend Versa-Lok wall and steps to serve as the foundation for the patio. The stamped concrete patio used the Ashlar Slate pattern; the base color was Sun Buff and the secondary release colors were Charcoal and Chestnut.

We installed a split-and-stack fire pit with a gas log starter and a louvered-style seating wall (using Sheffield blend Versa-Lok caps) to go around half of the fire pit area. Planting beds, top dressed with mulch, were then installed along with the new lawn. We harley-raked the existing ground to set the proper grade, remove debris, and spread new topsoil over the entire lawn area prior to hydro-seeding. The Final touch was installation of under-cap lighting on the patio pillars and steps. H&M created a beautiful new backyard that will be enjoyed on cool autumn evenings, sitting by the fire, with plenty of room for family and friends.

If you are considering a project at your home, please contact us as soon as possible for a free estimate and to get your landscaping project booked on this year's schedule.




Call H&M Landscaping to Winterize Your Irrigation System

10/29/18
Ralph Smith, Irrigation/Lighting Supervisor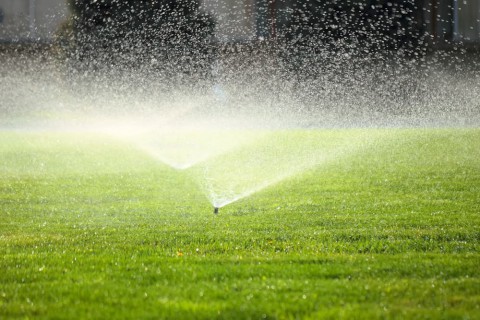 Autumn is here, and we all know what will be coming next. It's time to start booking appointments for irrigation season shutdowns. There is more to a proper shutdown than just shutting off the controller. Be sure to set up your irrigation shutdown early before the winter weather sets in.

Irrigation systems can be a great benefit to your lawn. We all know that lawns need regular watering to stay healthy. To keep your irrigation system performing in tip-top shape, you should ensure that it receives regular maintenance. You also need to ensure that your system is shut off during the winter season. Shutting off irrigation systems just before the temperature begins to drop below freezing will help ensure that your system is not damaged. Excess water can remain in your system after use, whether it be in the pipes or in the sprinkler heads themselves. If this water freezes, it can cause cracking or other damage to your system which can be costly.

When you are ready to winterize your system, call H&M Landscaping at 440-564-1157 to book your appointment and to have one of our experienced technicians protect your irrigation investment!




3-Step Lawn Rejuvenation to Recover from Thatch

10/22/18
Eddie Murillo, CLT, Maintenance Supervisor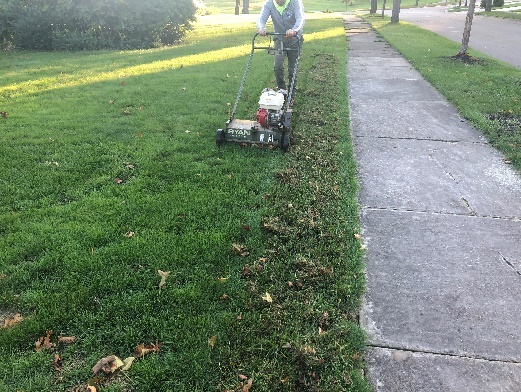 What is thatch? Thatch is a layer of living and dead organic matter at the surface of the soil. Thatch can be beneficial to have if it's less than half an inch. It can help to insulate the yard from extreme temperatures, protect from foot traffic and prevent weed germination from reaching the soil. When thatch becomes excessive and has become thicker than half an inch it can create many issues. It can harbor pests and many lawn diseases. Eventually thatch can limit the ability of oxygen and water to filtrate through to the root system. It may interfere with insecticides and fertilizers as well making them less effective. 


Step 1: Thatch will have to be removed mechanically with a dethatcher. What this does is remove the dead and living root system from the lawn. This will create a very unsightly view of all organic dead matter. The main purpose of dethatching the lawn is to get rid of the "carpet like feeling" from the lawn by breaking it up and removing that layer of thatch. After dethatching, removal of all leftover thatch and lawn debris will need to be done manually with a rake.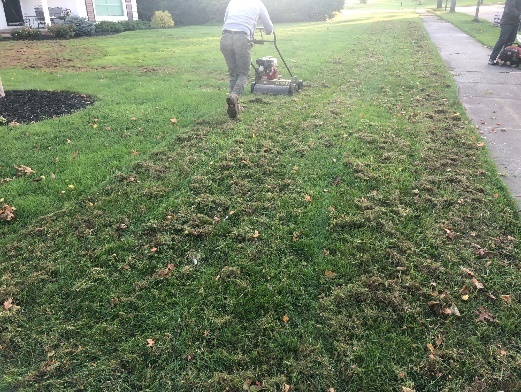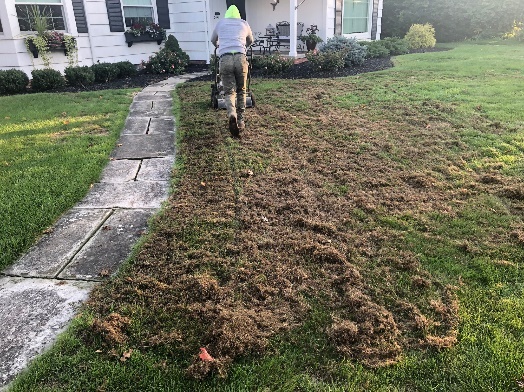 Step 2: Aeration of the entire lawn. The main purpose of aerating the lawn is to penetrate and break up the compacted soil. You will start by poking holes about 4 inches apart with a 2-inch depth in about a one- half inch diameter with an aerator. This process will allow nutrients, oxygen and water to penetrate the root system in the soil and reduce compaction.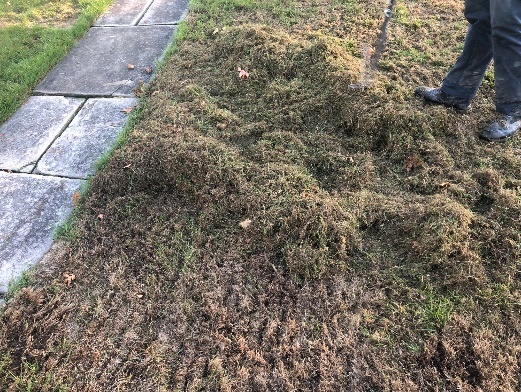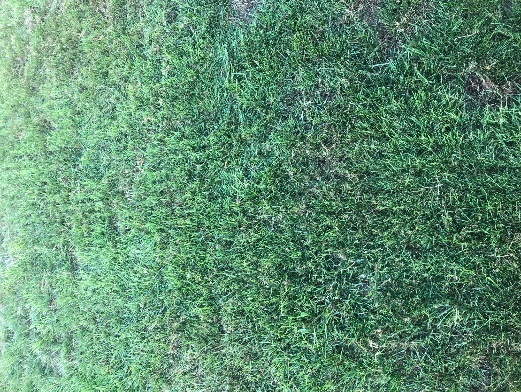 Step 3: Slit seeding will be the final process to complete the lawn overseeding. A slit seeder is used to accomplish this by creating small grooves or slits in the ground where the seed will be injected. This process will have to be done throughout the entire lawn. As the seed is being put down the slit seeder will inject seeds into every plug from the aerating process. It is also recommended to broadcast seed after aerating the lawn. 




Another H&M Landscaping Beautiful Backyard Transformation

10/15/18
Kevin McCausland, CLT, Construction Supervisor

H&M is just finishing up the final touches of this large project. We removed an old deck from the house and then started with a clean slate. The first step was to install the new Composite decking. We used TimberTech brand decking- the color chosen by our customer was Silver Maple. We finished off the deck with custom Sandstone-topped seating benches trimmed in Composite to match the deck. The next thing we worked on was the grill and kitchen area. We used Cultured stone to match the house and installed a new 36" AOG grill with rotisserie. We completed the kitchen area by installing a custom Sandstone countertop.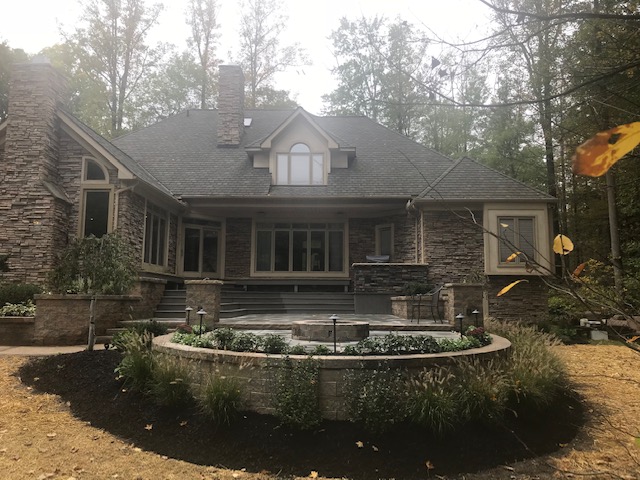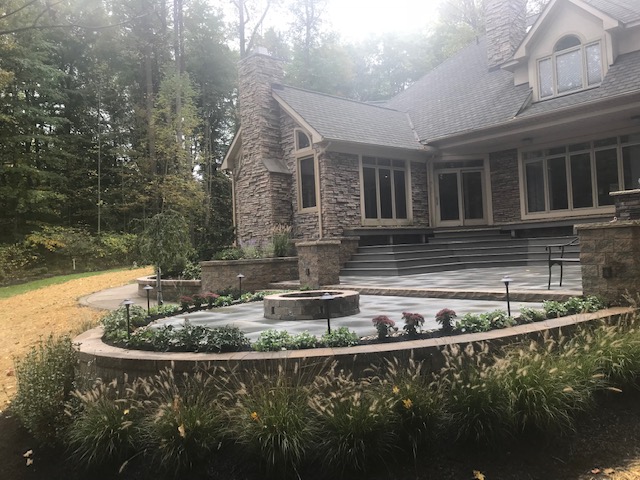 We moved on from there and started with the hardscape retaining walls. The customer chose Belgard brand Versa-Lok wall stone and picked Sheffield blend as the color choice. The fire pit was Belgard Brussels Block with a gas log lighter installed to make lighting the fire problem free. The patio surface itself is 1" Thermal Bluestone in the Full Range color. We re-purposed old Sandstone curbs as steps by cutting and rock facing the fronts. This always adds a great conversation starter with guests, as these old curbs are reclaimed from vintage Northeast Ohio roads. The plant selections were specific for this backyard as well because of the unique area with less sunlight and deer-resistant needs.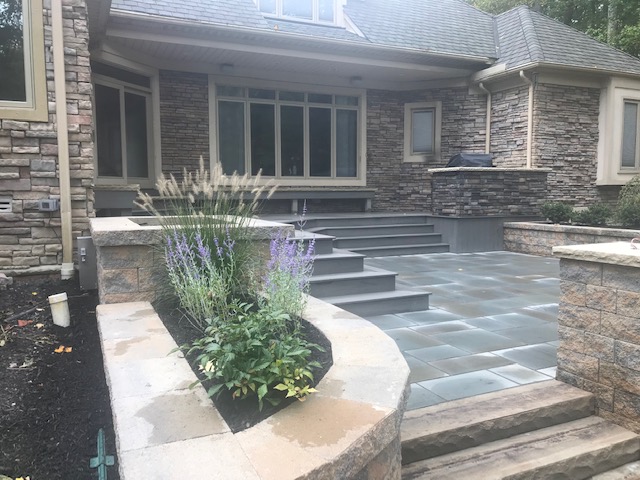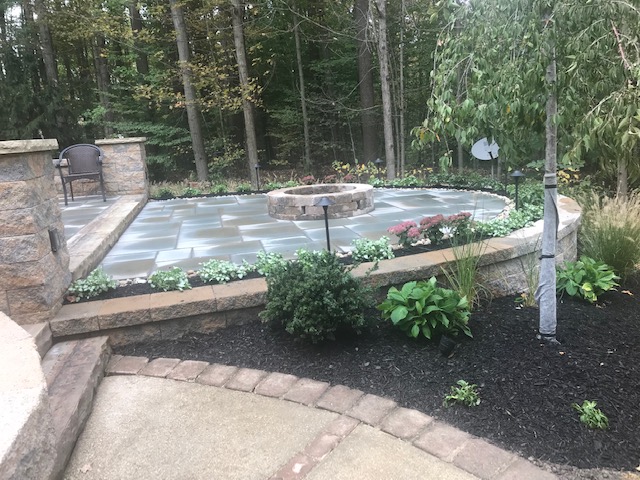 Projects like these are great to do all at once, but don't feel like you need to undertake an entire job all in one year. H&M Landscaping can implement your design in phases, done over several years, to realize your ultimate dreamscape! We also offer financing options if it suits your needs better. Please reach out anytime for a no-charge estimate with zero hassle.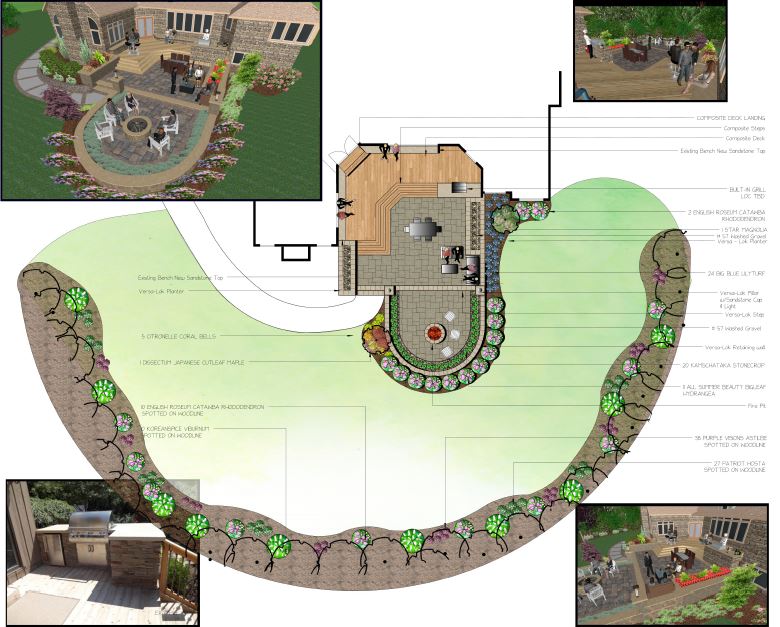 Landscaping Crews are the Core of Our Business

10/8/18
Jerry Wilthew, Maintenance Supervisor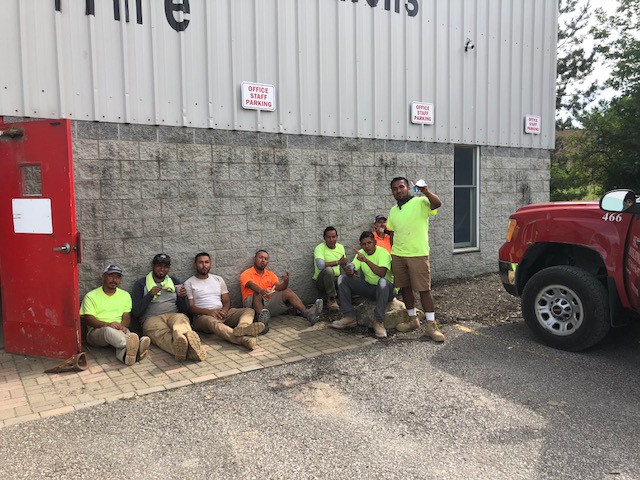 As our landscaping season winds down, we hope that you have had a chance to get to know your crews. Some may see the same crew weekly, others only for a few days. Whatever the case may be, we do hope that they were cordial and friendly, but I can say without a doubt, if you talked with them it made an impression.

We have quite a large labor force with multiple skill sets and personalities. Getting the right people together on the job is key. They all know that the impression you as the customer have when they leave the site is the most important thing. Some are new and learning, but these members could be the strength of our team down the road. Others have been with us a long time and many of you ask for them by name. Some of our crews are only here in the Cleveland area for the summer landscaping season. Without this seasonal labor, our capacity to serve would be very limited. Many of them have been coming for years and as you can imagine, they miss their friends and family. I think that many of you have become extended family for them and they thank you for your friendship and patronage.



H&M Snow Pros: Cleveland Commercial Snow Plowing Services

10/1/18
Bobby Lester, CLT, Business Development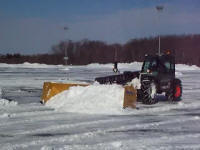 After a snowfall, it is important to clear parking lots and sidewalks to provide safe access for employees, customers and suppliers. Promptly removing snow and minimizing icy surfaces is crucial for reducing the likelihood of slips and falls. H&M Snow Pros is always there to attend to and manage Mother Nature for our customers. Small or large snow amounts can be easily handled without issue by our certified and professional snow account managers. Our reliable crews are in heavy demand again this year, so it is critical to have H&M service contracts in place prior to the first snowfall of the season.

When selecting a contractor, it is imperative to make sure the people who remove your snow/ice will show up as anticipated, do a thorough job and work within previously negotiated contracts and price guidelines. We make sure the contract covers all your needs (i.e., parking lots, driveways, walkways). Look for an established, licensed and bonded professional and always check references. Ask to see the contractor's certificates of insurance and make sure coverage for liability and workers compensation insurance is current.

H&M Snow Pros is a very sought out and reputable company that is a one-stop shop and can handle any landscape project or any snow removal needs you may have. From small snow storms to large blizzards, our company will make sure your property is serviced and taken care of so you can have peace of mind. We strive to bring the same incredible service to all of our accounts- no matter what size the property. We take tremendous pride in our business and our clients' needs are of utmost importance to our company. Call us today for a free quote on snow removal services for your property.




Patio Installation with Fire Pit & Seating Area

9/24/18
Brian Franko, CLT, Construction Supervisor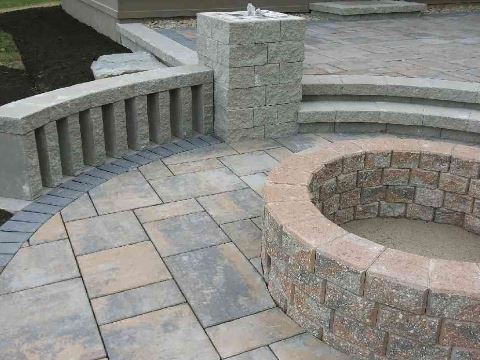 A customer in Aurora is getting a new back patio with fire pit seating area. The upper patio side walls, steps, and pillars are Versa-Lok standard blocks in Stone Gray color. The main patio fields are Beacon Hill Flagstone by Unilock in Fossil color, while the soldier course border is Holland Stone in the Charcoal color by Belgard.  Once finished, the two small seating walls by the fire pit area (as well as the pillars) will have 2-1/2 inch Sandsto